Boston Red Sox: All-time lineup and prospects who could dethrone them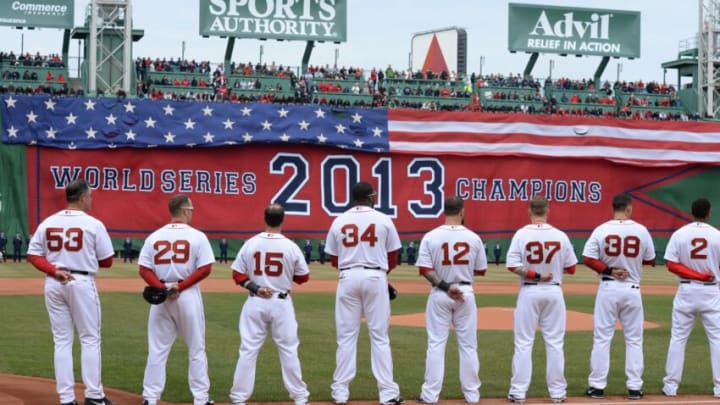 BOSTON, MA - APRIL 4: Members of the Boston Red Sox stand for the National Anthem during a ceremony honoring the 2013 World Series Champion Boston Red Sox before the start of a game against the Milwaukee Brewers at Fenway Park on April 4, 3014 in Boston, Masschusetts. (Photo by Michael Ivins/Boston Red Sox/Getty Images) /
CLEVELAND, OHIO – JULY 08: Blaze Jordan is seen during the T-Mobile Home Run Derby at Progressive Field on July 08, 2019 in Cleveland, Ohio. (Photo by Jason Miller/Getty Images) /
Red Sox third base protégé – Blaze Jordan
Blaze Jordan was one of the most exciting picks Boston made in 2020. They managed to snatch him up and sign him in the third-round of the MLB Draft. This was thanks to them saving some money on their first-round pick, someone many thought was a reach (we'll talk about him later though).
Jordan has insane power. At the moment, his defense leaves some to be desired. This means he might not actually stick at the position. But he does have the potential there and does have a strong arm.
It's the offense that you have to love. Like I said, insane power. A right-handed hitter that could put up some Manny Ramirez type numbers. I had to give him a shoutout at some point in this article because Manny doesn't take up any of the three outfield spots.
Jordan has only 105 MiLB at-bats under his belt so far. That's due to the 2020 season being a wash and an injury in 2021 limiting him.
Still though, those 105 at-bats were enough to get anyone excited. Splitting time between Rookie Ball and Low-A, Jordan slashed .324/.368/.590 with eight doubles, one triple, and six home runs. So the power is definitely already shining through.
That adds some extra intrigue to Jordan. He just turned 19 on December 19th, and it's not just "raw" power potential. It's already there.
Jordan drove in 26 runs (in just 28 games), scored 19 more, and stole one base. Speed isn't going to be a part of his game. But that's okay because he has the potential to put up good averages, great on-base percentages, and ridiculous power numbers. That should lead to some monster run production. And if he wants to steal a handful of bases every once in a while, that's fun too.
You could absolutely make an argument that Devers has the best chance of dethroning Boggs. We're sticking with strictly prospects though. And Jordan isn't out of the race. He's going to be 19 for the entirety of 2022 and has already made some waves. Seeing him advance to High-A is extremely likely. Double-A isn't completely out of the picture either if we're being 100% honest. With that in mind, even if Jordan gets to the Majors in 2024, he'd be 21 that season – that gives him a lot of time to play catchup.