Boston Red Sox: All-time lineup and prospects who could dethrone them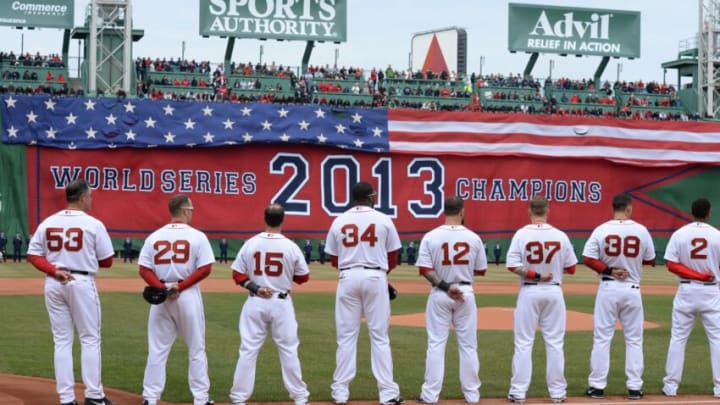 BOSTON, MA - APRIL 4: Members of the Boston Red Sox stand for the National Anthem during a ceremony honoring the 2013 World Series Champion Boston Red Sox before the start of a game against the Milwaukee Brewers at Fenway Park on April 4, 3014 in Boston, Masschusetts. (Photo by Michael Ivins/Boston Red Sox/Getty Images) /
BOSTON, MA – CIRCA 1986: Wade Boggs #26 of the Boston Red Sox bats during an Major League baseball game circa 1986 at Fenway Park in Boston, Massachusetts. Boggs played for the Red Sox from 1982-92. (Photo by Focus on Sport/Getty Images) /
Two-hitter: All-Time Red Sox third baseman – Wade Boggs
Wade Boggs could have retired after playing with the Red Sox for 11 years and still probably would have made the Hall of Fame. Instead, he spent another seven seasons in the Majors (five with the New York Yankees and two with the Tampa Bay Devil Rays at the time). Those extra seven seasons helped him get over 500 doubles, 60 doubles, and 100 home runs. It also helped him reach 3,000 hits.
In his 11 seasons with Boston, Boggs was insane. The third baseman only hit under .300 once and it was his final year with the team. He managed to lead the league in batting average five times in that stretch – ridiculous.
Boggs finished his Boston career with a .338/.428/.462 slash line with 422 doubles, 47 triples, and 85 home runs. The left-handed hitter drove in 687 runs and scored 1,067 more, while stealing 16 bases.
It's really hard to even put anyone else in the conversation with him when it comes to this position in Red Sox history. Mike Lowell was amazing, but only spent a few years in Beantown. And even if he did get 11 years, would he have even come close to this insane production?
It will be interesting to see what Rafael Devers can do in his career and if he can manage to earn his way into the conversation. He's definitely started off phenomenally. For now though, it's Boggs by a mile.
The man with the legendary drinking story actually spent the most time in the leadoff spot. So I could have definitely thrown him there instead of Garciaparra. However, he also had nearly 3,000 plate appearances batting second. And Nomar had just 169. It felt obvious to put these two at the top of the order, and someone had to take the two-spot. Boggs had a better average (.339) batting second than he did batting first (.321) anyways.
They'll both get on-base at insane clips for the next few batters to put up insane RBI numbers.