Boston Red Sox: All-time lineup and prospects who could dethrone them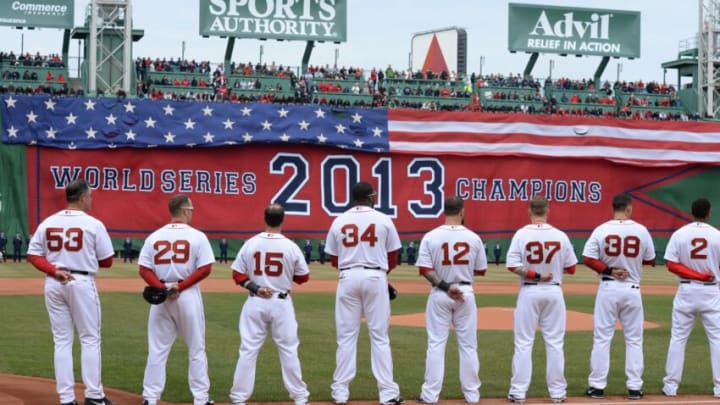 BOSTON, MA - APRIL 4: Members of the Boston Red Sox stand for the National Anthem during a ceremony honoring the 2013 World Series Champion Boston Red Sox before the start of a game against the Milwaukee Brewers at Fenway Park on April 4, 3014 in Boston, Masschusetts. (Photo by Michael Ivins/Boston Red Sox/Getty Images) /
BOSTON, MA – APRIL 4: David Ortiz #34 of the Boston Red Sox shows off his 2004, 2007 and 2013 championship rings along with a ring honoring his 2013 World Series MVP selection during a ceremony honoring the 2013 World Series Champion Boston Red Sox before the start of a game against the Milwaukee Brewers at Fenway Park on April 4, 3014 in Boston, Masschusetts. (Photo by Michael Ivins/Boston Red Sox/Getty Images) /
Three-hole: All-Time Red Sox designated hitter – David Ortiz
David Ortiz might make the Hall of Fame this year and wow does he deserve it. Big Papi is one of the greatest designated hitters of all-time. The left-handed hitter finished his career with over 600 doubles, 19 triples, and over 500 home runs.
In his time with Boston (14 seasons), Ortiz slashed .290/.386/.570 with 524 doubles, 16 triples, and 483 home runs. He drove in 1,530 runs and scored 1,204 more, stealing 13 bases (just fun to throw that in there).
He joined the Red Sox in 2003, and his first five years with the team saw him finish in the top-five in MVP voting each season. Ortiz made 10 All-Star games and won seven Silver Sluggers. This included a 2006 season that saw Big Papi hit 54 home runs, a Boston record.
He had a couple "bad" years that got some people worried, wondering if it was the beginning of the end. That was back in 2008 when he slashed .264/.369/.507 with 30 doubles, 23 home runs, and 89 RBI. Still really solid. The next year saw another dip though, with a .238/.332/.463 slash line with 35 doubles, 28 home runs, and 99 RBI. 2010 saw a big uptick in production though, and from 2011 on he was back to being virtually unstoppable.
In fact, in his final year (2016) Ortiz slashed .315/.401/.620 with a league-leading 48 doubles, one triple, and 38 home runs. He scored 78 runs and lead the league with 127 RBI. Oh, and he was 40. Seriously, it felt like he had another five years in him if he wanted to keep going.
Ortiz was a postseason superstar too. He slashed .289/.404/.543 with 22 doubles, two triples, and 17 home runs in 85 games (304 at-bats). Papi drove in 61 runs and scored 51 more. He also had countless clutch hits that will live in Boston lore forever.
This one is tough for a few reasons. First of all, it's going to be really really hard for someone to beat out Ortiz anytime soon. I mean the man was there for three World Series rings (2004, 2007, 2013). And was a major part of each team too. In all three of those seasons he hit over .300, had at least 30 homers, and drove in at least 100 runs.
Second, there aren't many players like him anymore. Ortiz was a full-time designated hitter his entire time in Boston. In his 14 years with the team he started just 142 games at first base. 75 of those starts came in his first two seasons. After that it was basically just whenever they were playing at a National League stadium.
Now a lot of teams love to do the whole rotation where even if you have a "usual" DH they still play the field a decent amount to give others a rest. More importantly though, it feels like a position they would sign someone for. It's harder to imagine a prospect getting the DH treatment but who knows.
And again, even if they did they'll have a lot of work to do to reach Big Papi levels.
Just imagine Ortiz hitting in the three-hold behind Garciaparra (we did get to see him drive in Nomar quite a bit for a year-and-a-half) and Boggs. The RBI totals would be insane. He's pretty well versed in those role already.