Boston Red Sox: All-time lineup and prospects who could dethrone them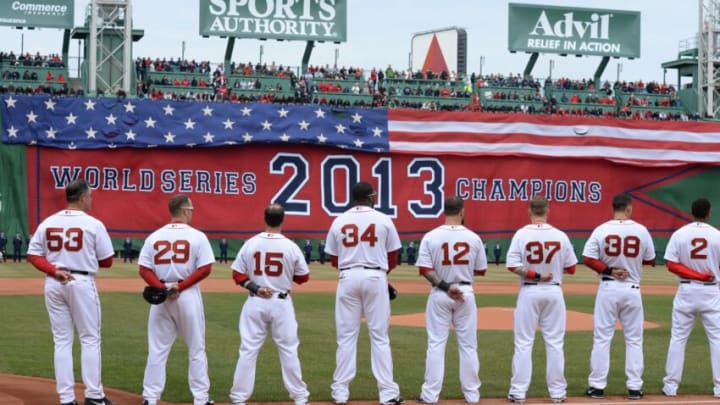 BOSTON, MA - APRIL 4: Members of the Boston Red Sox stand for the National Anthem during a ceremony honoring the 2013 World Series Champion Boston Red Sox before the start of a game against the Milwaukee Brewers at Fenway Park on April 4, 3014 in Boston, Masschusetts. (Photo by Michael Ivins/Boston Red Sox/Getty Images) /
BOSTON, MA – JULY 22: Boston Red Sox 2021 first round draft pick Marcelo Mayer poses for a portrait as he is signed with the club on July 22, 2021 at Fenway Park in Boston, Massachusetts. (Photo by Billie Weiss/Boston Red Sox/Getty Images) /
Red Sox shortstop protégé – Marcelo Mayer
If someone is going to dethrone Nomar when it comes to greatest shortstop in Red Sox history, it's going to be the prospect they just snagged in the MLB Draft this year – Marcelo Mayer.
Mayer was the highest-rated prospect entering the draft. Somehow he fell down to fourth and Boston was able to snatch him up.
The 19-year-old is still pretty far away from the Majors, seeing as how he was just drafted out of high school (91 at-bats in the minors) and just turned 19 on December 12th. However, it might not be as far away as you might expect.
Mayer slashed .275/.377/.440 in those 91 at-bats. The left-handed hitter smoked four doubles, one triple, and three home runs. He drove in 17 runs, scored 25 more, and stole seven bases as well.
This is the perfect example of what he can do offensively, which is everything. He's got pretty decent speed, and that's the worst thing you can say about him. The potential to hit .300 with 30 home runs is real. Could even throw in 15-20 steals every once in a while, just to add to his game.
Mayer doesn't stop there though, as he's already good with the glove. This is what makes him special. Rarely do you see someone with such insane offensive potential also have this type of defensive talent at shortstop. There really isn't much holding him back.
Mayer will likely start 2022 in Low-A. So like I said earlier, he's still pretty far away from the Majors. However, he could go the route of Nick Yorke in 2021. By that I mean, he could finish the year in High-A. Boston will likely give him a lot of time in Low-A though as they'll want him to get those reps (barring some just utterly ridiculous numbers).
Still if he finishes the year in High-A that suddenly puts him knocking on the double-A door for 2023. And we might even see him in the Majors by the end of that year if Mayer really accelerates the program. Most likely though, we'll see him in Boston in 2024.
Even if that seems like a long time away, Marcelo Mayer would be 22 for the entirety of that season. Still insanely young and giving him more than enough time to put up some mammoth numbers and a chance at dethroning Nomar.