Red Sox prospect Chase Shugart receives 50-game suspension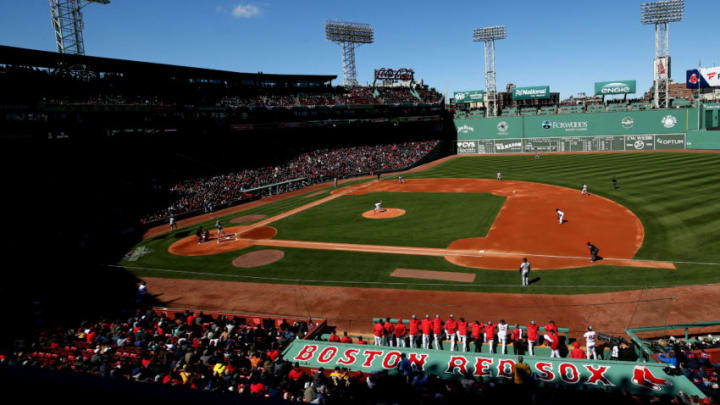 BOSTON, MA - APRIL 05: David Price /
MLB added to the number of suspended players. Young Red Sox prospect Chase Shugart handed 50-game suspension after second positive drug test.
22-year-old Boston Red Sox prospect Chase Shugart is the most recent member of the organization to earn himself a suspension for a positive drug test, reports Masslive.com's Chris Cotillo. This was Shugart's second positive drug test, which costs him a 50-game suspension.
The starting RHP was drafted by the Red Sox in the twelfth round of the 2018 Draft. Before playing in the minor leagues for the Red Sox, he played at the University of Texas at Austin. Chase has a fastball coming in between 93-95mph, plus a slider, curveball, and a changeup. According to SoxProspects, he struggles with maintaining command deeper in outings and his changeup is very inconsistent. It's noted that he's very athletic for a pitcher, he has potentially intriguing qualities if he's able to hone his pitches, and it is thought that if he does not have it in being a starter he could find a role as a 7/8th inning reliever.
Shugart is joined by fellow minor league baseball players Eric Filia and Jon Perrin in his suspension. This is Filia's third positive drug test and Perrin's second positive drug test. According to MiLB, 12 minor league players have been suspended in 2019 as of March 22. One player received a 25-game suspension, nine players received 50-game suspensions, one player received a 72 game suspension, and one received a 100-game suspension. The majority of substances are currently being marked as "drug of abuse" on this list. Interestingly, 10 of these players are pitchers. In three months, the MiLB has suspended 12 players. 11 of these players have previously been suspended for testing positive. It's clear that this is still an enormous issue in baseball.
Shugart is now the second Red Sox player to be suspended in 2019. Ironically, both Steven Wright and Shugart are RHP. What does this mean for the organization? Rick Porcello voiced his views on the issue of PEDs in the league when Wright was suspended . He's not alone in being a player in the Red Sox organization who is vocal in being against the use of PEDs. When a player gets in trouble, it creates separation between a team. It's about his own individual reputation, the backlash of his actions, the potential setbacks in his career as a result. But it's also about what the team loses when they lose a player for 50-games. The team is now forced to rejig plans, deal with internal communication about the issue, negative media attention, and having to rebuild dents in player relationships.
More from Red Sox News
Is Shugart worth it? He has the potential to be a good player. Chase is ranked as the 21st best prospect in the Red Sox organization. We know that the Red Sox have a weak farm system right now and that it needs to be rebuilt. Shugart is very young and in the early stages of his playing career. It worries me that he's already tested positive twice.
Back in the 2018 season, top prospect Michael Chavis was suspended 80-games for a positive drug test. The team also recently signed previously banned for positive drug testing Jenrry Mejia. The Red Sox made a stance in that signing, as they agreed to give a young player a fourth chance. There can be both positives and negatives in deciding to make that signing. The number of players on the team with positive tests is accumulating. As a Red Sox fan, that worries me. The more the organization signs and keeps players like this on their roster, the higher the chances of this coming back and impacting them in a negative way.
Is MLB doing enough to combat drug abuse? There's still a massive amount of MLB player suspensions for positive tests. When 92% of the MiLB players being suspended this year are players that have previously received punishment for the same thing, it's clear that there isn't enough being done.