Aaron Judge's Yankees return a brutal reminder of what could have been for Red Sox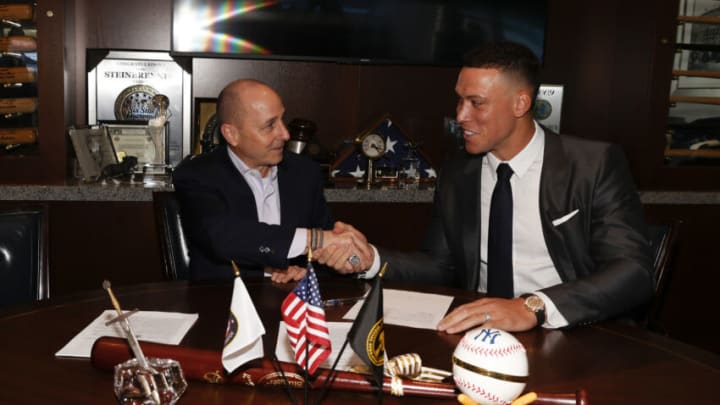 NEW YORK, NY - DECEMBER 21: General manager Brian Cashman of the New York Yankees and Aaron Judge #99 finalize Judges nine-year contract before a press conference at Yankee Stadium on December 21, 2022 in the Bronx, New York. (Photo by New York Yankees/Getty Images) /
Two weeks to the day the Boston Red Sox lost Xander Bogaerts forever, their greatest rivals made their own homegrown star a Yankee forever.
Worse yet, they made him captain.
On Wednesday morning, Aaron Judge returned to the New York Yankees from the free-agent wilderness to sign a 9-year, $360M contract and officially become the 16th captain in Yankees history.
Yankees name Aaron Judge captain
The Yankees haven't had a captain since Derek Jeter, who was on hand in New York to pass the torch to Judge. The Red Sox haven't had an official captain since Jason Varitek. Now, it's unclear if they ever will again, certainly not for a very long time. Bogaerts was the de facto captain; like legendary Red Sox second baseman Bobby Doerr, whose nickname was the Silent Captain, Bogaerts never needed the official title to embody its qualities.
Watching the Yankees do for Judge what the Sox should've and could've done for Bogaerts is pain to the nth degree. The Yankees wanted their guy, and they spent to prove they meant it.
Must be nice.
Last spring, both teams made attempts to retain their stars and avoid free agency. Both players were coming off strong seasons, but Bogaerts had compiled more offensive WAR and helped his team to the ALCS. In response, the Red Sox offered to tack a mere year and $30M onto his existing deal, something he reportedly considered a slap in the face.
The Yankees tried significantly harder; even their lowball-ish offer to Judge last spring would have made him almost as highly paid as the richest contract in Red Sox history. Brian Cashman offered Judge a 7-year, $213.5M extension; Dave Dombrowski signed David Price to a 7-year, $215M contract in 2015.
Hal Steinbrenner, Brian Cashman, and everyone else knows full well that Judge will turn 31 in a few months. He almost certainly won't have another 62-homer season. They'll be paying him through injuries, decline, and strikeouts. He's yet to lead the Yankees to a pennant, let alone a championship.
They still paid him.
Meanwhile, the Red Sox had a much more consistent, healthy, younger player in Bogaerts. They had a proven leader and proven winner in the two-time World Series champion, five-time Silver Slugger, and four-time All-Star. He'll likely age better than Judge, and he's costing the San Diego Padres $80M less.
Even after the 2004 ALCS, the 'Do Damage' of 2018, and the 2021 Wild Card, there will always be a chip on Boston's shoulder when it comes to their Bronx rivals. Now, that chip is compounded by the shame of ruining things with a homegrown star once again. Leadership is choosing to turn the club into an embarrassment, and Yankees fans will, no doubt, rub it in for years to come. Just think about how long they tormented Boston about Babe Ruth.
It could've been the Sox, reintroducing their beloved shortstop this week. Bogaerts could've returned to Fenway, having finally conquered the cheapness of the brass, to sit in front of the media and talk about how happy he was to be home. He'd put his jersey back one, the same one he's worn since he was 20 years old, playing his first big-league game in August 2013. Only maybe this time, there would be a 'C' on it. Perhaps he poses for a photo with Varitek and Jim Rice, or Carl Yastrzemski, just as Judge posed with former Yankees captains on Wednesday.
The Sox could've done the right thing. If they had, they would have reaped the benefits for years to come.
Instead, they've lost to the Yankees before the season's even begun.