Red Sox pitchers on the fringe of making 2018 Opening Day roster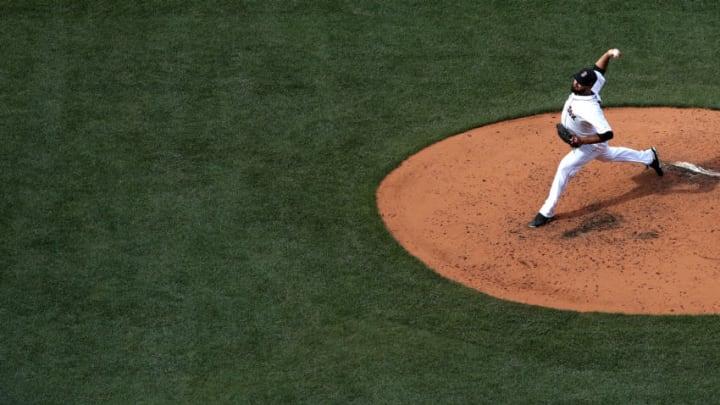 BOSTON, MA - SEPTEMBER 14: Brandon Workman /
KANSAS CITY, MO -JUNE 19: Hector Velazquez (Photo by Ed Zurga/Getty Images) /
HECTOR VELAZQUEZ; RIGHT-HANDED PITCHER
2017 in MLB: 3-1, 2.92 ERA, 24.2 IP, 19/7 K/BB Ratio, 1.14 WHIP, .236 BAA
2017 in AAA: 8-4, 2.21 ERA, 102 IP, 79/24 K/BB Ratio, 1.00 WHIP, .213 BAA
Hector Velazquez had a weird year in 2017.
The Red Sox brought in pitchers like Velazquez and Kyle Kendrick to provide depth to what many thought would be the best Starting Rotation in Baseball.
The starting rotation struggled early. Pitchers either under-performed, or suffered injuries. So Velazquez was thrust into spot starts earlier than many thought.
Velazquez failed to follow through in his originally projected role, posting a 5.02 ERA and 1.47 WHIP in 14.1 IP over three starts. The 28-year old appeared to be as lost a cause as Kendrick, which is why it was so weird that he excelled out of the bullpen. In a relatively small sample size, (10.1 IP in relief) Velazquez did not surrender a single run. Additionally, he held opposing hitters to a .121 batting average,  and accrued a .068 WHIP.
The former Mexican Leaguer finds himself in a peculiar situation for 2018. If he can find a way to right the proverbial ship as a starter, he could find himself in a dogfight with Steven Wright and Brian Johnson for the No.5 starter's job. If the trend he showed in 2017 continues, however, he'll find himself in Pawtucket to start the year, but will be heavily considered if bullpen relief is required.
I think the latter will prevail.
VERDICT: Starts 2018 in Triple-A