Red Sox pitchers on the fringe of making 2018 Opening Day roster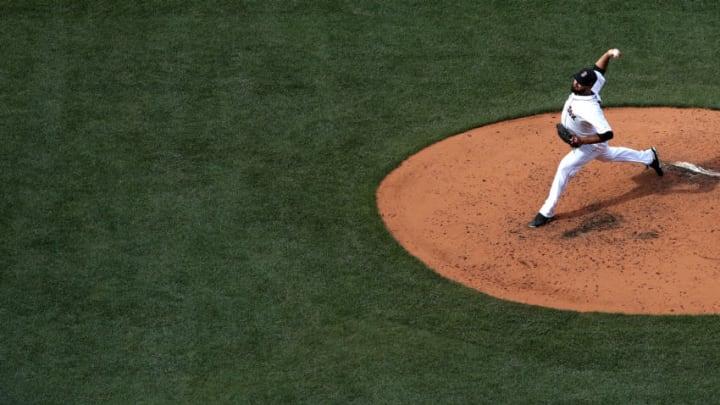 BOSTON, MA - SEPTEMBER 14: Brandon Workman /
BOSTON, MA – OCTOBER 09 (Photo by Tim Bradbury/Getty Images) /
WILLIAMS JEREZ; LEFT-HANDED RELIEVER
2017 in AA: 2-0, 3.16 ERA, 51.1 IP, 47/17 K/BB Ratio, 1.31 WHIP, .258 BAA
2017 in AAA: 0-2, 3.75 ERA, 12 IP, 10/6 K/BB Ratio, 1.25 WHIP, .209 BAA
Williams Jerez is not a name you are expected to know off the top of your head. I'll admit, until I sat down to write this, I didn't completely recognize the name.
A former 2nd-round pick in 2011, Jerez was invited to camp each of the last two seasons, but was ultimately returned to Double-A Portland in both instances. The lefty's luck seems to have turned around for 2018, as his contract was selected by the Red Sox earlier this month. This move could serve one of two purposes. The Red Sox very well could like Jerez enough to look to add him to the roster for 2018. On the other hand, it could serve as protection for Jerez from the Rule-5 Draft. Either way, the move shows the Red Sox have confidence in the southpaw.
In time split between Double-A and Triple-A, Jerez pitched well. He accumulated a 3.27 ERA across both levels, showing an ability to pitch with command, surrendering only 23 walks in 63.1 IP.
If the Red Sox heed none of my advice regarding the bullpen – which is fine, I guess – then the 25-year old will enter camp in 2018 poised to compete for a job.
Fernando Abad and Robbie Ross Jr. both elected to test free agency. Two lefties who, at different times, held an important specialized role in the Red Sox bullpen over the past few years. Besides Robby Scott, the Red Sox have no other left-handed relievers. Options in that area are extremely important, in the event that a pitcher suffers an injury, or performs poorly.
Best case scenario for Jerez is he makes the team out of camp. Worst case,on the other hand, he's the first reliever called-up in the face of injury. He gets worse case on this list.
VERDICT: Starts 2018 in Pawtucket