Red Sox pitchers on the fringe of making 2018 Opening Day roster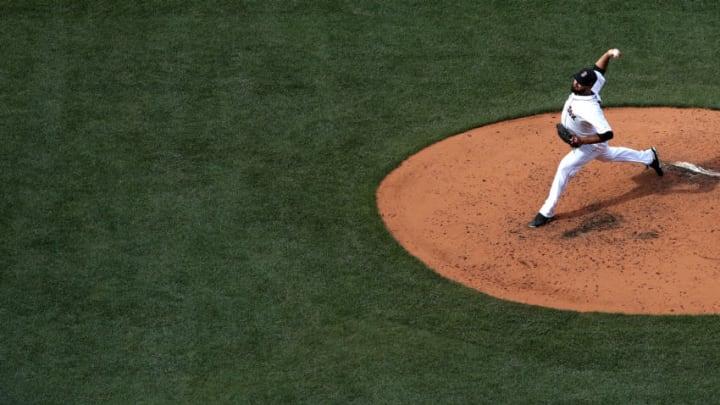 BOSTON, MA - SEPTEMBER 14: Brandon Workman /
DETROIT, MI – AUGUST 21: Henry Owens (Photo by Dave Reginek/Getty Images) /
HENRY OWENS; LEFT-HANDED STARTER
2017 in AAA: 4-5, 3.91 ERA, 69 IP, 72/60 K/BB Ratio, 1.70 WHIP, .224 BAA
2017 in AA: 3-6, 4.58 ERA, 57 IP, 49/55 K/BB Ratio, 1.67 WHIP, .205 BAA
Oh, how the mighty prospects have fallen.
It's hard not to feel bad for a pitcher like Owens. He made his long awaited debut in 2015, where he saw modest success as a rookie starter. In 2016, he pitched well in Triple-A, but saw a regression at the big league level, with a walk problem rearing its ugly head. This problem didn't go away for Owens in 2017, however, as he saw his BB/9 balloon to 8.2. The Red Sox felt it would be best to demote the southpaw to Double-A Portland, a move that would allow him to rework his mechanics, according to a report from Alex Speier of the Boston Globe from the time of the demotion. The assignment did not help the 2011 1st-round pick, however, as his walk rate continued to inflate, surrendering 55 walks in 57 IP in Double-A.
So where does this leave the 6'6" lefty moving forward? Owens' ability to find the strike zone has diminished drastically, and he's come nowhere close to the pitcher the Red Sox thought they had in the minors. But that doesn't mean he should be written off entirely for 2018. Boston brought in Kyle Kendrick – a historically below replacement level pitcher – to add depth to the rotation in 2017. What's to say Owens, an otherwise decent pitcher in the minors, could not serve that same purpose? A scrap-heap player from within, provided that he can fix his "walking people" issue.
Next: Position players on fringe of making Opening Day roster
I don't know, just a thought.
VERDICT: Starts 2018 in Triple-A