Kiké Hernández's Xander Bogaerts tweet has Red Sox fans spiraling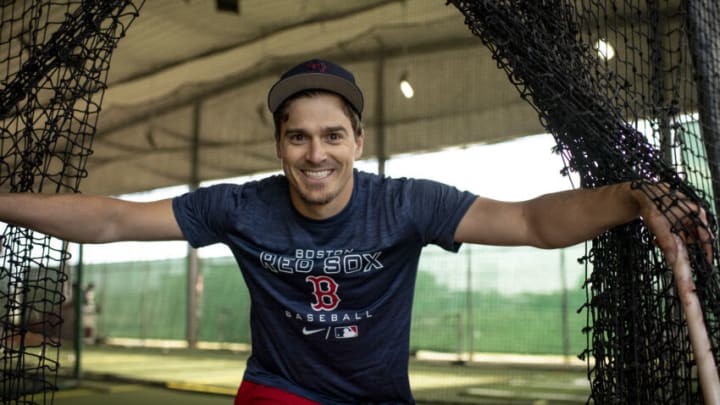 Red Sox outfielder Kike Hernandez (Photo by Maddie Malhotra/Boston Red Sox/Getty Images) /
When you woke up this morning, did you know that it was Kiké Hernández Day?
For hours, the popular Red Sox super-utility man has been in the thick of things. Sox players have been largely silent on social media this offseason, at least about team-related issues. But Hernández entered the fray in a big way on Wednesday.
First, he celebrated his former Dodgers teammate, Kenley Jansen, becoming his Red Sox teammate.
Hernández and Jansen overlapped on the Dodgers from 2015-20, winning a ring together in Hernández's final season in LA. Connecting the dots, it's safe to say the super-utility star may have played a part in getting the veteran closer to Boston. On Monday, Chaim Bloom and Alex Cora met with members of the media at Winter Meetings and revealed that Hernández and Trevor Story have been doing some recruiting.
2013 World Series champion Will Middlebrooks also weighed in on the signing and mentioned the Xander Bogaerts connection:
Jansen and Bogaerts grew up on neighboring islands. Jansen hails from Curaçao and Bogaerts was just 67 miles away in Aruba. The closer speaks five languages: English, Spanish, French, Dutch, and Papiamento; the shortstop shares all but French.
Kiké Hernández riles Red Sox fans up with Xander Bogaerts tweet amidst reunion reports
Speaking of Bogaerts, Hernández riled fans up by asking for an update on his pal. Or maybe he's suggesting there will be one soon. Mocking Jon Heyman's "Arson Judge" flub was the cherry on top:
A minute later, Pete Abraham of the Boston Globe took things up a notch:
With tweets like these, how is anyone supposed to focus on anything else?