Yankees signing Aaron Judge puts immediate pressure on Red Sox with Xander Bogaerts, Rafael Devers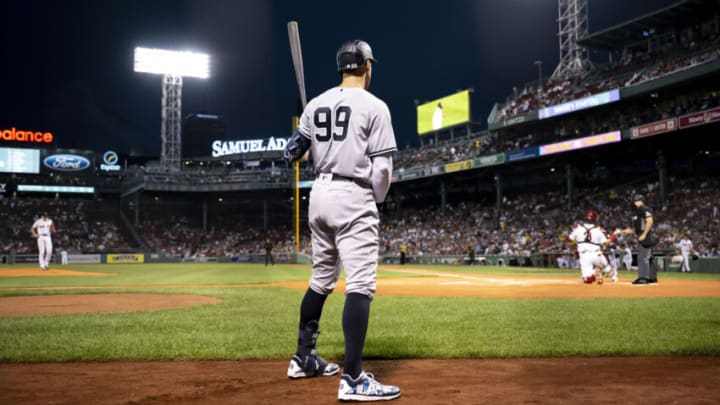 BOSTON, MA - SEPTEMBER 13: Aaron Judge #99 of the New York Yankees warms up on deck during the first inning of a game against the Boston Red Sox on September 13, 2022 at Fenway Park in Boston, Massachusetts.(Photo by Billie Weiss/Boston Red Sox/Getty Images) /
Aaron Judge, you are a Yankee for life.
On Wednesday morning, Christmas came early for fans of the winningest team in MLB history. Judge is returning to the Bronx on a nine-year, $360M deal that matches the offer he received from his hometown San Francisco Giants.
It's a stunning coup for maligned GM Brian Cashman, to whom the Yankees just gave a new 4-year contract. On Tuesday evening, Jon Heyman set Twitter ablaze when he erroneously reported that Judge had chosen the Giants. It's likely that when the Yankees found out Judge still hadn't made his choice, they seized that second chance and upped theirs.
Aaron Judge returning to the Yankees puts immediate pressure on Red Sox with Xander Bogaerts
As many had speculated, Judge making his decision set off a domino effect. Within the following few hours, the New York Mets grabbed Jose Quintana, the Sox reeled in Kenley Jansen, and the St. Louis Cardinals are reportedly "close" to terms with top free-agent catcher Willson Contreras.
The Red Sox are officially on the clock. This is the eleventh hour. Adding Jansen is a great move, but they must re-sign Xander Bogaerts and extend Rafael Devers. According to Heyman, they are "in heavy discussions," but after his Arson Judge gaffe last night, people aren't understandably cautious.
When it looked like the Yankees were going to lose Judge to the Giants, the Sox had some wiggle room. Losing Bogaerts would be unacceptable under any circumstance, but not nearly as embarrassing if they weren't the only team in this storied rivalry to totally fumble the bag.
Factor in the report that the Yankees plan to make Judge their first captain since Derek Jeter, and this hits even closer to home. The last official Sox captain was current coach Jason Varitek, but for years, Bogaerts has been considered their unofficial captain. He's never sought the title, though; personal glory isn't in his nature, which is precisely what makes him the perfect leader.
"'If you want to name him the captain without putting the 'C' you can go ahead … At the end, when you talk about the guy in that clubhouse, yeah, Xander Bogaerts is the guy.'Alex Cora, June 2022"
Two months later, when playing a game of superlatives with ESPN, Devers chose the perfect word for the player who's become a big brother to him:
Capitán.
The pressure is on. It should've been already. If Sox president Sam Kennedy has logged onto his Twitter account lately, there's no way he's missed the millions of tweets begging and demanding deals for the iconic duo.
For the first time in a while, there's some serious heat in the Rivalry. Will the Red Sox counter?