Boston Red Sox: All-time lineup and prospects who could dethrone them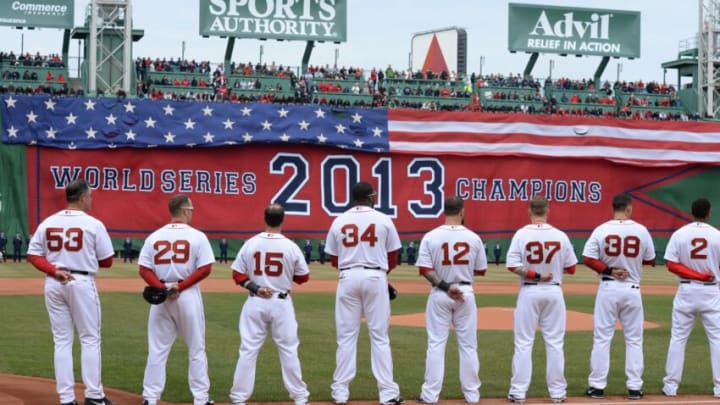 BOSTON, MA - APRIL 4: Members of the Boston Red Sox stand for the National Anthem during a ceremony honoring the 2013 World Series Champion Boston Red Sox before the start of a game against the Milwaukee Brewers at Fenway Park on April 4, 3014 in Boston, Masschusetts. (Photo by Michael Ivins/Boston Red Sox/Getty Images) /
ANAHEIM, CA – JULY 27: Closer Jonathan Paplebon #58 of the Boston Red Sox sets to deliver a pitch on his way to picking up the save against the Los Angeles Angels of Anaheim on July 27, 2010 at Angel Stadium in Anaheim, California. The Red Sox won 4-2. (Photo by Stephen Dunn/Getty Images) /
All-Time Red Sox closing pitcher – Jonathan Papelbon
Jonathan Papelbon was nuts. Remember how I talked about how I 100% believe Nomar could've been one of the GOATs if it wasn't for injuries. Same thing here with Papelbon except it wasn't really injuries that slowed him down.
Papelbon made his Major League debut with the Red Sox in 2005. His official rookie year was 2006 though, and let me just read you off the stats – because this is one of the wildest rookie seasons I've ever seen.
The right-handed pitcher finished that year with 68 1/3 innings pitched. In that time he went 35-for-41 on save opportunities. He boasted a .167 BAA and that might be the worst of the numbers somehow. Pap also had a 0.78 WHIP and 0.92 ERA with 75 strikeouts. How he was that dominant in year one is beyond me.
It didn't stop there though. In seven years in Boston, Papelbon recorded 219 saves. And that's counting his 2005 "debut" season where he only threw 34 innings and had zero saves.
He also posted a 2.33 ERA, 1.018 WHIP, a BAA that hovered in the low .200s, and 509 strikeouts in 429 1/3 innings pitched. His 2007 BAA of .146 is hauntingly low. That shouldn't be allowed.
Papelbon moved on to Philadelphia after that and continued to dominate. He finished his career in 2016 after posting a career-worst 4.37 ERA with the Washington Nationals. It was the only time in his career that he had an ERA over 4.00. Even that year though he was very reliable, saving 19 games in 22 opportunities.
Papelbon was only 35 and probably could've kept being very effective. He had some issues with teammates (he literally choked Bryce Harper). That might have spelled an early end to his career.
Imagine if he stayed in Boston though (remember, he called out Philadelphia and basically admitted he missed Boston). Over six seasons he had 219 saves. That's an average of 36.5 saves a season. Could he have climbed up to get close to Mariano Rivera's number? I'm not saying yes, but it might not have been the craziest thing ever.
I mean, he still finished his career with 368 saves, that's a lot. I'm willing to bet he would have eclipsed 500 (I know that's still not close to Rivera) if he stayed in Boston (I honestly think he would have pitched a lot longer too).
Papelbon was in his absolute prime when he was in Boston. No one could touch him. He was elite, the best-of-the-best type stuff. Very few you would want closing out your game for you more than the Red Sox Papelbon.