Boston Red Sox: All-time lineup and prospects who could dethrone them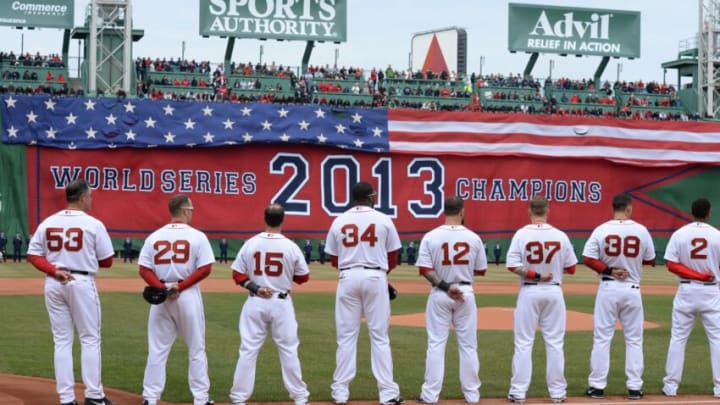 BOSTON, MA - APRIL 4: Members of the Boston Red Sox stand for the National Anthem during a ceremony honoring the 2013 World Series Champion Boston Red Sox before the start of a game against the Milwaukee Brewers at Fenway Park on April 4, 3014 in Boston, Masschusetts. (Photo by Michael Ivins/Boston Red Sox/Getty Images) /
PORTLAND, ME – MAY 27: Durbin Feltman #12 of the Portland Sea Dogs delivers in the ninth inning of the game between the Portland Sea Dogs and the Altoona Curve at Hadlock Field on May 27, 2019 in Portland, Maine. (Photo by Zachary Roy/Getty Images) /
Red Sox closing pitcher protégé – Durbin Feltman
Durbin Feltman was supposed to be the closer of the future when Boston drafted him back in 2018. It started off great too with a strong first year. 2019 saw Feltman take several steps back though. Then 2020 saw the MiLB season get cancelled due to COVID. And honestly, I think that made a lot of the hype around Feltman die down.
But 2021 was a serious resurgence year for the right-handed pitcher. He spent the year in both Double-A and Triple-A and finished with a 2.96 ERA, .215 BAA, and 1.06 WHIP. In 51 2/3 innings he struck out 62 batters while only walking 14.
What's most impressive though is that Feltman was so much better in Triple-A. He posted a 2.59 ERA, .200 BAA, and 0.90 WHIP with 25 strikeouts in 24 1/3 innings in Worcester.
The fact that he was able to improve during the year despite taking a leap to the next level has to get you excited. Honestly, I was pretty surprised he never got the call to the Majors. But it worked out really well for the purposes of this article, because now I get to put him on this list.
Feltman should be the closer of the future for Boston. In fact, he has a chance to be the closer of now. They don't have a closer at the moment and he could absolutely win a spot in the bullpen this Spring Training. Maybe he could even win that role.
Feltman is only 24 (turns 25 on April 18th). Papelbon was 25 in his rookie year with Boston too. That kind of works out beautifully. Pap put up his numbers in only seven seasons (mainly six seasons if you want to get technical about this). Feltman could play for a much longer time. So even if he doesn't start as the closer, he'll have plenty of time to make up the ground.
The Red Sox drafted him with the idea that he would be their closer one day. It might be time for Durbin Feltman to take up that mantle.