Boston Red Sox: All-time lineup and prospects who could dethrone them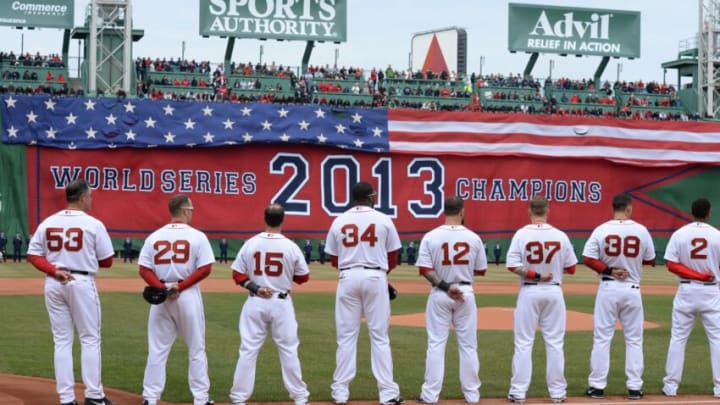 BOSTON, MA - APRIL 4: Members of the Boston Red Sox stand for the National Anthem during a ceremony honoring the 2013 World Series Champion Boston Red Sox before the start of a game against the Milwaukee Brewers at Fenway Park on April 4, 3014 in Boston, Masschusetts. (Photo by Michael Ivins/Boston Red Sox/Getty Images) /
OAKLAND, CA – OCTOBER 1: Shortstop Nomar Garciaparra of the Boston Red Sox hits the ball in the American League Division Series against the Oakland A's on October 1, 2003 at Network Associates Coliseum in Oakland, California. Oakland defeated Boston 5-4. (Photo by Jeff Gross/Getty Images) /
Leading off: All-Time Red Sox shortstop – Nomar Garciaparra
There's no denying that Nomar Garciaparra is the greatest shortstop in Red Sox history. In nine years with Boston, Garciaparra slashed .323/.370/.553 over 966 games (3,968 at-bats).
Nomar won the Rookie of the Year, a Silver Slugger, and made it to five All-Star games. The right-handed hitter was top-10 in the MVP race five times, finishing as high as second in 1998. You could argue that he deserved more than one Silver Slugger and a few Gold Gloves. He easily could've won an MVP too.
It still pains me to think what his career numbers could've been had he stayed healthy. This is a guy that hit .306 with 30 home runs and 22 steals in his rookie season. His next season saw him hit .323 with 35 homers. Then .357 with 27 homers. And finally .372 with 21 homers.
Garciaparra managed to rack up the extra-base hits while in Boston. In those nine years he finished with 279 doubles, 50 triples, and 178 RBI. He drove in 690 runs and scored 709 more, while stealing 84 bases.
Not to start any wars here, but I stand by the fact that PRIME Nomar was better than PRIME Derek Jeter. Jeter had the better career, absolutely. Garciaparra was a better fielder too. This isn't a knock on Jeter. One of the GOATs. I just don't think Garciaparra is remembered how he should be remembered.
Xander Bogaerts has had a phenomenal career so far. It's just a testament to how good Nomar was that it's not even really a question as to who you have to pick for this spot.
Garciaparra was mainly a three-hole hitter in his career. But he did have some time at leadoff. And for this lineup, that's the perfect spot for him. He wasn't a speed demon, but was decently fast in his prime. And got on-base at some insane clips. That will help with this absolute UNIT of an offense that's all about power.
Garciaparra would be able to get on-base, and maybe even swipe a few bags. He'd also add some pop to the one spot while playing great defense at short. It's hard to see anyone topping Nomar Garciaparra at the position for a long time.