Red Sox bring back a familiar face with a shocking trade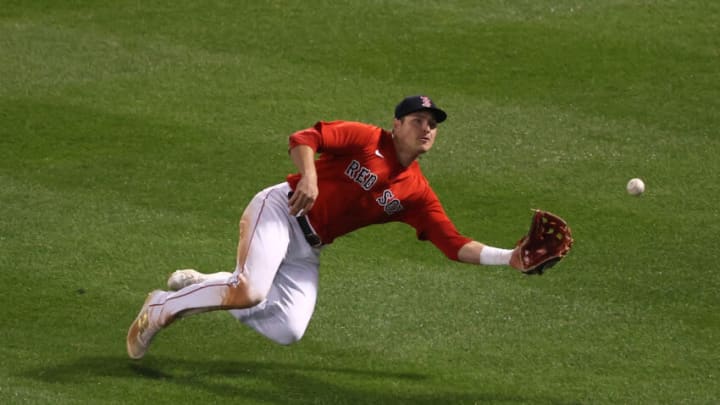 BOSTON, MASSACHUSETTS - OCTOBER 18: Hunter Renfroe #10 of the Boston Red Sox catches a ball hit by Carlos Correa #1 of the Houston Astros for the final out of Game Three of the American League Championship Series at Fenway Park on October 18, 2021 in Boston, Massachusetts. (Photo by Omar Rawlings/Getty Images) /
Red Sox swap outfielders in deal that lands Jackie Bradley Jr.
Roughly 30 minutes before the beginning of the ninth work stoppage in Major League history, the Boston Red Sox announced they had traded outfielder Hunter Renfroe to the Milwaukee Brewers. In return, Boston reacquired Jackie Bradley Jr., who had previously played for the Red Sox from 2013 to 2020. Rounding out the return from Milwaukee are minor league infielders Alex Binelas, a 2021 third-round draft pick and David Hamilton, an eighth-round pick in 2019. Hamilton and Binelas were the 16th and 17th-best ranked prospects in Milwaukee's farm system.
The trade concludes Boston's pre-lockout transactions after officially announcing the signings of free agent pitchers James Paxton and Rich Hill (another familiar face to Red Sox fans) late Wednesday night.
It seems the Red Sox are prioritizing outfield defense with the return of Bradley, considered by many to be one of the best defensive outfielders of the last decade. Renfroe was noted for his spectacular arm, collecting 16 assists, but his 12 errors were the most among American League outfielders.
The Red Sox decided to sell high on Renfroe, who posted career highs in multiple offensive categories, such as batting average (.259), hits (135), and OPS (.816). Renfroe was due for a salary of about $7.6 million this offseason through arbitration, a raise from the $3.1 million the Red Sox paid him in 2021. While JBJ is owed $11 million next season, the Red Sox decided the difference in salary was worthwhile to gain two of the Brewers top-20 infield prospects.
Bradley struggled offensively in his 2021 campaign, hitting just .163 with an OPS+ of 34 in 134 games. These numbers were drastically lower than his 2020 season in Boston, wherein Bradley hit .280 with an OPS+ of 116 in 55 games.
Red Sox chief baseball officer Chaim Bloom addressed the media shortly after the trade news broke, thanking Renfroe for his contributions in 2021, while welcoming Hill and Bradley back to Boston. Bloom noted that the trade was quite a recent development, but felt it improved the roster significantly.
Bradley is likely to slot into a backup outfielder role, joining an outfield situation that features Kiké Hernandez, Alex Verdugo, J.D. Martinez, as well as Jarren Duran waiting in the wings. Perhaps the Red Sox believe that moving Renfroe keeps the door open for free-agent outfielder Kyle Schwarber, who came to Boston from the Washington Nationals just before the 2021 trade deadline and soon became a fan favorite across Red Sox Nation (especially in his adopted "hometown" of Waltham), while posting solid numbers (.291/.435/.522, 7 home runs in 41 games).
Boston will have to wait until the end of the lockout to make any more moves, but all indications are that Chaim Bloom and company will not be afraid of going over the luxury tax as they have now committed $21 million between Michael Wacha, Paxton, and Hill, players who are certainly going to be viewed as depth pieces for 2022 (Paxton may not pitch until August or September as he recovers from Tommy John surgery).
Regardless of Bradley's previously mentioned $11 million salary hitting the books as well, Bloom said that the Red Sox are still committed to adding more pieces after the lockout ends.