Red Sox Rumors: J.A. Happ is a potential source of low-cost rotation depth
The Red Sox are showing interest in free-agent pitcher J.A. Happ.
The Boston Red Sox are in need of a starting pitcher and they could steal one away from a division rival. According to MLB Network's Jon Morosi, the Red Sox are showing interest in free-agent J.A. Happ.
The veteran lefty hit the market after falling short of the 10 starts and 61 1/3 innings required to trigger his vesting option. Happ accused the New York Yankees of intentionally limiting his workload in order to avoid paying his $17 million option so it's difficult to see him returning to the Bronx.
You can't blame the Yankees if they weren't eager to spend that much on Happ but he can still provide value at a greatly reduced cost. MLB Trade Rumors predicted that Happ will sign a 1-year, $6 million deal, a price tag low enough to mitigate the risk of signing an aging pitcher and a potential bargain if he performs to his capabilities.
Happ appeared to be washed up during a dismal 2019 season when he owned a 4.91 ERA in 31 appearances. He was plagued by the long ball, posting a career-high 1.9 HR/9. Perhaps this was partially the result of spending his first full season in New York, where the short porch in Yankee Stadium's right field has turned many pitchers into home run victims.
A bounce-back year in 2020 showed the 38-year old still has something left in the tank. Happ posted a 3.47 ERA and 1.05 WHIP in nine starts for the Yankees. His 1.5 HR/9 was still a bit of a concern but it was an improvement over the previous year. Happ also improved his ground ball (44.4%) and hard hit (29.2%) rates while reducing his fly ball (36.5%) rate.
Happ is only a couple of years removed from an All-Star campaign in 2018 and he earned some Cy Young consideration as a 20-game winner two years earlier. We can't count on Happ regaining that form at his age but the potential is there. Even if he replicates last season's results, Happ could be a bargain and an upgrade at the back of Boston's rotation. Let's face it, his disappointing 2019 production is still an improvement over most of the options the Red Sox sent to the mound last season.
It doesn't hurt that Happ has found success at Fenway Park, going 7-2 with a 2.57 ERA in 12 career appearances. Happ has long been a nemesis of the Red Sox during his tenure with the Yankees and Blue Jays so it's no surprise that they consider him an option.
The Red Sox rotation will get a boost with the return of Eduardo Rodriguez but there are few other proven options behind him beyond Nathan Eovaldi. Nick Pivetta and Tanner Houck impressed in late-season auditions but neither has a track record we can bank on. Chris Sale should provide a mid-season upgrade but his timeline remains uncertain.
Boston needs to add at least one reliable starting pitcher, possibly two. With several other areas to address this offseason, the Red Sox can't commit to significant chunk of their budget to starting pitching. At least one starter they pick up will have to be relatively cheap and Happ fills the bill.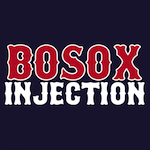 Want your voice heard? Join the BoSox Injection team!
Write for us!
The Red Sox don't necessarily need an ace if they expect Rodriguez and Sale to be able to lead the staff at some point next year. Shopping in the middle class of free-agent starters is a more realistic path. Happ isn't the most exciting target but he's among the options who can provide a solid floor at an affordable price.