Red Sox Rumors: Owners willing to spend money to make trades work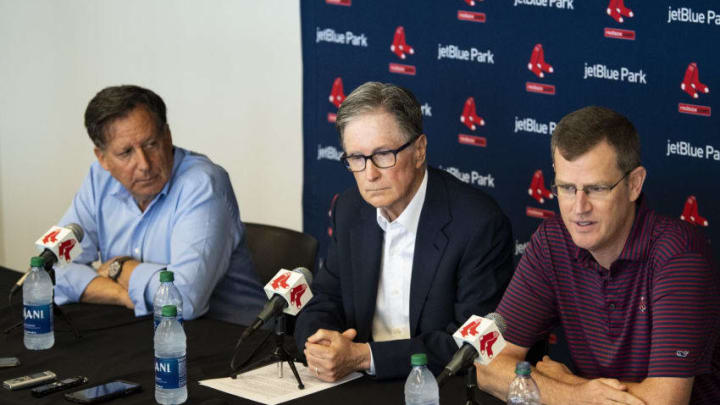 Red Sox Chairman Tom Werner, Principal Owner John Henry, and CEO Sam Kennedy of the Boston Red Sox. (Photo by Billie Weiss/Boston Red Sox/Getty Images) /
The Boston Red Sox are willing to take back money in trades.
The narrative of the year is that the Boston Red Sox ownership group has suddenly morphed into a bunch of cheapskates who only care about money instead of winning but recent actions suggest otherwise.
That may seem like a contradictory statement since the Red Sox are waiving the white flag on this season by selling as the trade deadline approaches. This is clearly a lost season for the last-place Red Sox. It would be foolish and irresponsible not to sell any player without a long-term future in Boston. It's their willingness to flex their financial muscle in order to get these deals done that should catch our interest.
Take the recent trade that sent Brandon Workman and Heath Hembree to the Phillies along with $815,000 in cash considerations. According to Sean McAdam of the Boston Sports Journal, that money wasn't included by coincidence.
Workman ($3.5 million) and Hembree ($1.6125 million) weren't expensive to begin with. Those salaries were prorated for the shortened season, which we were nearly halfway through at the time of the trade. By asking Boston to include cash in the trade, Philadelphia was able to improve their leaky bullpen by adding two relievers who won't cost them much more than the major league minimum.
The pandemic has had significant financial consequences on teams that are suffering from the loss of revenue generated by selling tickets for fans to attend games. More teams might be inclined to upgrade at the deadline with the expanded playoff format but fewer teams are willing to increase payroll to do so.
John Henry's pockets are deep enough to weather the storm of this economic crisis. His reasons for cutting payroll this year go beyond saving money since the increasingly punitive luxury tax payments for repeat offenders punish more than the owner's wallet.
More from Red Sox Rumors
The Red Sox are currently about $23.4 million under the tax ($8.99 million prorated), per Red Sox Payroll. That gives them some wiggle room to give away cash or add payroll in order to facilitate trades at the deadline. McAdam suggests that the willingness to include money could help more deals get done at the deadline.
The Red Sox willingly took less than full value for Mookie Betts in order to dump half of David Price's contract on the Dodgers. The same logic can now work in their favor. It stands to reason that by including money in the deal or taking back a bad contract, Boston could improve their haul in any deal they make this month.
As long as it doesn't push them over the tax line or leave a bloated contract on the books beyond this season, Boston should utilize the space beneath the tax threshold to make more moves. Easing the financial burden could make a team hesitant to add players more eager to talk trades, giving them the incentive they need to pull the trigger.
This trade deadline is about getting assets in return for players who won't be a part of this team's future. Boston isn't trying to contend in 2020 but they can set themselves up for a brighter future with the moves they make now.