Red Sox: Jackie Bradley is Boston's best option for centerfield in 2021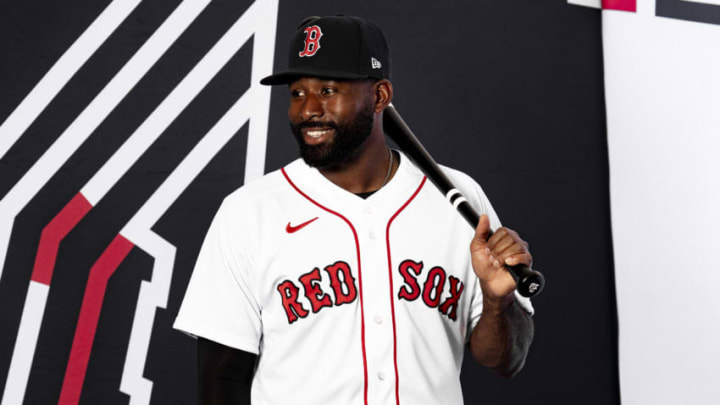 FT. MYERS, FL - FEBRUARY 19: Jackie Bradley Jr. #19 of the Boston Red Sox poses for a portrait during team photo day on February 19, 2020 at jetBlue Park at Fenway South in Fort Myers, Florida. (Photo by Billie Weiss/Boston Red Sox/Getty Images) /
The Boston Red Sox have yet to hold contract talks with Jackie Bradley Jr. despite the lefty being their best option in centerfield for 2021 and beyond.
Well, Red Sox Nation, we're inching closer and closer to the 2020 season becoming a reality and with that comes free agency. That's right, friends, it's already time to begin looking to next winter and the names that will be in the free-agent pool. Luckily for Boston, they won't be getting hit hard but they could lose a cornerstone of their roster, Jackie Bradley Jr.
Until a few months ago all anyone could talk about in relation to the 2021 free agency class was Red Sox right fielder Mookie Betts. Boston took control of that situation and traded him to the Dodgers along with David Price for a haul of prospects. With Betts out of the way, the only big-name the Red Sox will have to worry about is JBJ.
The defensive dynamo has been a regular on the Major League roster since 2014 after making his debut in the 2013 season. Since then he has roamed centerfield robbing hitters of home runs and extra-base hits on the regular.
His home run stealing catch against the Orioles earned him "Play of the Year" honors from the MLB Network in 2019. However, for as impressive as he is on defense he's equally as unimpressive at the plate.
JBJ is a career .236 hitter, which doesn't really jump off of the screen. Though he may not add a batting title to his trophy case anytime soon, he's one of those few that gets paid for what he can do with his glove and not his bat. Bradley is a major asset for any team he suits up for thanks to his defensive abilities alone.
This past winter wasn't the kindest to the lefty as he once again saw his name tossed around in numerous trade discussions, nothing new for him though. He even joked that he's been traded nine or ten times so it's nothing new. That's one hell of a positive outlook on a situation that most players would dread having to deal with. As of now, his future is a massive question mark despite all that he's done while with the Red Sox.
Look no further than the storybook 2018 season, you know, the one where they didn't cheat, and fast-forward to the ALCS. Though Jackie would only hit .200, he knocked in 9 runs while smacking a pair of dingers against the Astros, earning him the MVP Award. I can admit I haven't always been the kindest in regard to Jackie's play but for every time I sigh at a strikeout of his, he goes and makes an insane diving catch to save a run.
During this past offseason, I pointed my attention towards top prospect Jarren Duran as the heir apparent to JBJ, and I don't feel that I'm wrong in that regard. Duran has everything it takes to be a successful player in the big leagues, but his time may still be a year or two away. We saw what he could do against MLB quality arms during spring training, but the consistency just wasn't there yet.
Having a year or two under the Jackie Bradley learning tree could do wonders for the young outfielder on his path to the Red Sox main roster. This brings me back to the reason why I sat down to write this whole dang thing, JBJ is still the best option for the Red Sox going forward. If they were to let him go in free agency, that would leave Andrew Benintendi as the sole veteran in Boston's outfield surrounded by youngsters.
By retaining Bradley for at least another few years, he can mentor his eventual replacement while also keeping one of the best outfields in the league mostly intact. As far as the other free agent centerfielders are concerned, only George Springer catches my eye, but I doubt Boston would even look his way for one simple reason, money. While JBJ is set to earn a mere $11MM for 2020, Springer is on the hook for a whopping $21MM.
More from Red Sox News
Now that Boston has Chaim Bloom sitting in the CBO chair as opposed to his big-spending predecessor, I can't see them dropping massive cash for a soon to be 31-year-old outfielder. There's no doubt that Springer has off the charts talent and his bat would be a massive improvement to Boston's sometimes offensively anemic outfield, but that price tag is far too steep.
So let's put a nice shiny bow on this sucker and send it on home. Boston definitely has options if JBJ finds a new home this upcoming winter, but one is too expensive and the other is too inexperienced. This is why I feel that offering Jackie a new short-term deal would be a win-win. It'll give the lefty some job security for the new few years while giving the Red Sox a chance to groom their young prospect.
Even if Bradley has a great 2020, his value won't skyrocket even close to the stratosphere where Springer lives. Something in the neighborhood of 3-years/$36MM won't break the bank for Bloom.
It keeps a reliable player on his roster for the foreseeable future and gives Jackie a pay rise in the same motion. Unless something changes over the course of this season I don't see any other options that will best suit Boston moving forward. As it stands, Jackie Bradley Jr is the best solution for the Red Sox in centerfield not only for the 2021 season but beyond.