Red Sox prospect Jarren Duran is the solution to replace Jackie Bradley Jr.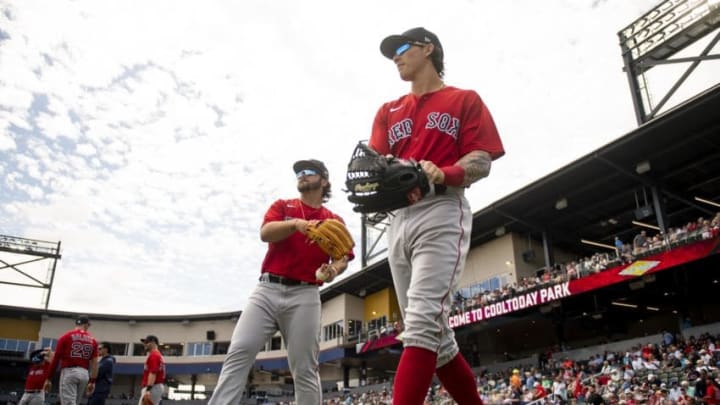 NORTH PORT, FL - MARCH 6: Nick Longhi #83 and Jarren Duran #92 of the Boston Red Sox warm up before a Grapefruit League game against the Atlanta Braves on March 6, 2020 at CoolToday Park in North Port, Florida. (Photo by Billie Weiss/Boston Red Sox/Getty Images) /
The Boston Red Sox will need to find a replacement for Jackie Bradley Jr. soon with free agency looming, luckily they have someone ready to take over.
Free agency will soon come knocking on the door at Fenway Park and the Red Sox need to have their plans in place for its arrival. With Mookie Betts now in Los Angeles, Boston's biggest free agent coming this winter will be Jackie Bradley Jr. Sure, there are other names on the list and J.D. Martinez could always decide to leave, but JBJ's departure feels like a sure thing.
So, If the Red Sox lose their defensive dynamo, where do they go? To me, that answer is pretty easy and it's right in front of our faces. Top prospect Jarren Duran has been a tour de force this spring and is positioning himself to be the future of Boston's outfield. With his name being at the top of Chaim Bloom's list of talent, I don't think we're too far off from seeing him at Fenway.
Duran split his time in 2019 between High-A Salem and Double-A Portland, he's definitely on the fast track and climbing the ranks. MLB.com has him ranked in the Top-10 for the Red Sox with a projected ETA of a 2021 main roster promotion. With how well he did last season and how strongly his spring has gone, I could see that projection getting updated.
Through where we are in today's clash against the Braves, Duran is 1-3 with a single and a stolen base. This brings his spring training numbers to an impressive .333/.444/.667/1.111 with a single homer and two RBI. Now don't get me wrong, I'm loving everything that JBJ is doing this spring as well considering he's off to one of his hottest starts ever, but we have to look towards the future.
When the final bell tolls on the 2020 season, we're likely to not see Jackie in a Red Sox uniform again. So not only do we as fans have to turn to that next chapter but Bloom and his team need to as well.
I'm sure everyone that is familiar with the prospect list is chiming in with Triston Casas' name, but he hasn't clicked for me as much as Duran has. I saw him play this past summer with the Greenville Drive and was a bit disappointed considering the hype.
Now, Duran won't be making the Opening Day roster as there would need to be a miracle for that to occur. Boston will be carrying at least four dedicated outfielders into the regular season in JBJ, Andrew Benintendi, Kevin Pillar, and the currently injured Alex Verdugo. So at this time, it looks like there aren't any seats free on the bus, but if Duran keeps the heat on, he'll be promoted in no time.
With how well he performed last season and again adding in spring training I think we may see Duran spend most of his time in Pawtucket during 2020. He may start out where he left off in 2019 in Portland but it'll be hard to keep him in the lower levels of the minors for long. Getting him to Triple-A and having him face consistent Major League quality pitchers will only help his progression.
As for JBJ, I'm not too sure what his future holds. With this being his last season under contract with the Red Sox he'll undoubtedly want to put up career marks to spark his free-agent value. His defensive abilities will always garner attention from suitors, but his often cold trips at the plate may keep the phone from ringing.
We heard all winter long how Boston was trying to shop the centerfielder to try and free up his salary from the books and nobody seemed interested.
More from Red Sox News
Jackie will earn $11M for his services this season and if he can extend his spring training numbers through the regular season I'm sure he'll be asking for a raise. What the market is for a soon to be 30-year-old outfielder with spotty offense, I have no clue. If he cools down at the plate and his numbers level out closer to his norm then I could see his wage demands needing to be cut.
I can also see Boston re-signing him on a short-term deal similar to Mitch Moreland where he can be a holdover while a true replacement can be groomed. There's also the possibility that Boston does move JBJ ahead of the trade deadline, but that would require some dominoes to fall.
Verdugo would need to be healthy which would allow Pillar to take his more natural position of centerfield. This would then free up a roster spot and could give Ron Roenicke the chance to call-up Duran to start getting those big-league reps ahead of 2021.
Add in the fact that Pillar will also be a free-agent come 2021, Boston needs to get a plan in place. So getting Duran onto the 40-man sooner rather than later would be in the best interests of the Red Sox. To me, the bottom line of this whole thing is that Duran is the future and with plenty of shake-ups coming next winter, he has a great chance of getting his feet wet in 2020.
Jarren Duran has been fantastic during spring training and it looks as if he is being positioned as the heir apparent to Jackie Bradley Jr. If he can continue his rise through the ranks of the Minor League system then I think he'll be roaming Fenway Park sometime soon. As far as JBJ is concerned, he's more than earned his right to test free agency and get paid. I for one will miss him if he leaves as he's the definition of a team player and always left it on the field.