Red Sox ownership remains unlikable despite how much they've won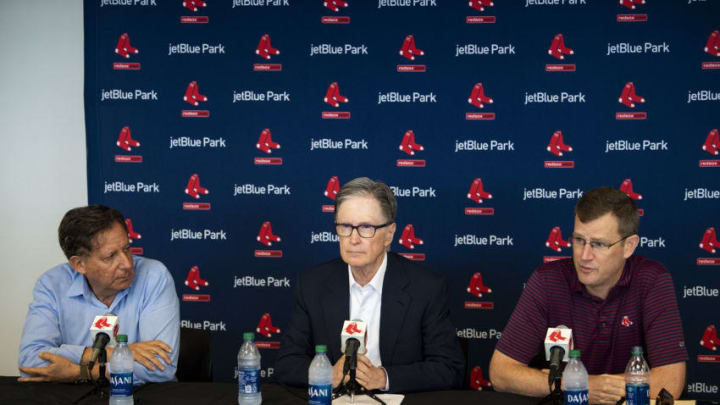 FT. MYERS, FL - FEBRUARY 17: Chairman Tom Werner, Principal Owner John Henry, and President & CEO Sam Kennedy of the Boston Red Sox speak to the media during a press conference during a team workout on February 17, 2020 at jetBlue Park at Fenway South in Fort Myers, Florida. (Photo by Billie Weiss/Boston Red Sox/Getty Images) /
Red Sox ownership has won more over than any Sox fan could have dreamed of. Despite this, multiple poor decisions have caused them to be disliked.
If you could go back in time to the year 2000 and ask Red Sox fans if they'd be happy with the team winning four World Series championships in the next twenty years, they'd have thought you were crazy, having been thrilled to just win one while thinking it would never happen. If you then asked them whether they'd love the ownership group who made such a thing possible, they'd probably ask where they could start building the statue.
Yet here we are in the year 2020, with the Red Sox having won four World Series titles since 2004 and the Red Sox ownership group of John Henry, Tom Werner, and Sam Kennedy as unlikable as ever. Fans have never really embraced them since Henry bought the team in 2002, he and his group never having been able to shake the perception that they're carpetbaggers looking to make a quick buck off the team before skipping town.
That last part is ironic given that Henry has now owned the team for almost twenty years, but it's still a very real perception among the Red Sox fanbase. While Celtics owner Wyc Grousbeck and Patriots owner Robert Kraft are both local guys who grew up as fans of their respective teams before buying them, Henry had no local ties to the Red Sox before buying them.
In fact, how he came to buy the team was part of a strange episode in Major League Baseball history. Henry had bought the Florida (now Miami) Marlins in 1999 and then sold them to Jeffrey Loria (who owned the Montreal Expos) as the league promptly took over the Expos before moving them to Washington in 2005. Henry then turned around and bought the Red Sox from the Yawkey Trust.
Right off the bat, there was distrust of the new ownership group of Henry, Tom Werner, and Larry Lucchino. There have been numerous instances of the owners earning derision from Red Sox fans despite all of the winning.
Including but not limited to how they've meddled in baseball-related decisions, forced Theo Epstein out twice, prioritized making a splash and marketing over good fits in Boston (see: Crawford, Carl, and Sandoval, Pablo), and most recently the way they've handled this past offseason.
The eighteen years and counting of this group's ownership of the Red Sox are littered with examples similar to what will be discussed in this article, so for the sake of brevity only this offseason will be discussed. Still, the examples discussed within this article are analogous to multiple others during the entire course of this group's ownership of the team.
Many of the problems Henry and his team have had can be tied to the fact that despite having an almost irrational sense of paranoia when it comes to PR and controlling their messaging, the Red Sox owners are just so, so bad at it. Messaging and engagement with customers is a huge part of being an owner and Henry, Werner, and Sam Kennedy are awful at it. In a loosely chronological order:
– John Henry mentioned during the middle of the 2019 season that he didn't want to add any more payroll and that the team had "known about it for at least the last year." Coming right around the July trade deadline when the Red Sox were starting to play relatively well and were thinking of being buyers at the deadline, they instead stood pat and sank like a stone to finish the season barely above .500.
– After saying in September that the team was going to do whatever they could do to cut payroll and reset the luxury tax penalties, John Henry used his own newspaper, the Boston Globe, in January to blast the media, saying that he never said the Red Sox needed to save money and that the whole narrative behind them setting the luxury tax penalties was "media-driven noise."
This, despite his own comments from earlier in the year being thrown back in his face where he clearly said otherwise. He again brought it up during spring training when he told the media they were "too hung up on the CBT" even though there was no other reason to trade Betts and David Price except to reset the CBT.
– The Mookie Betts trade was, regardless of your feelings on whether it needed to be done or not, a complete PR disaster. After seeing the backlash from both fans and the media on the paltry return they received in its initial incarnation (Alex Verdugo, Brusdar Graterol) the team hemmed and hawed on Graterol's medical records, holding up the trade and earning the ire of the media, the MLB Players Association, and other teams.
Eventually they settled for an improved but still weak return when they took on Verdugo and prospects Jeter Downs and Connor Wong.
– Also in the Betts trade, the Red Sox took on a player with some considerable baggage in Verdugo, who not only has an injury that will keep him off the field until after Opening Day (although that may not be the case now with the season being delayed) but had some questionable incidents in his past. The team tried to spin this as "we know about it and there's nothing to see here" which only made them look worse.
– Red Sox CEO and President Sam Kennedy announced ticket price increases in October, hot on the heels of the listless and disappointing 2019 season. Then he expressed surprise to the media that ticket sales were down "about 15%" from last year (and if he's saying 15%, it's probably more like 25%).
– During spring training when asked how the team would handle the diminished fan interest in the team, Kennedy said they still planned to "market the heck out of this team" and followed that by saying "we're still going to be competitive." Which seemed incredibly tone-deaf given all of the players they traded or let go in free agency.
It was then revealed that the Red Sox had reached out to "social media influencers" in an attempt to drum up interest in the upcoming season. When some of these influencers were asked if the Red Sox offered to pay them to do so, they answered that the only thing the team offered was some game tickets.
– During this same press conference, John Henry awkwardly read from a stiff and bizarre prepared statement the team's Twitter page had tweeted out minutes before where he tried to make Red Sox fans feel better by tying the Betts trade to how he would have been devastated as a childhood Cardinals fan if the team had traded Stan Musial. The whole thing only opened him up to more ridicule online and in the press.
– Perhaps the icing on the cake were these comments by Kennedy after the Red Sox and all of Major League Baseball suspended operations in the wake of the Coronavirus outbreak.
When asked if the team was going to pay the salaries of Fenway Park's hourly workers after he went on and on about how the team was going to disinfect the entire ballpark (even though there had been no games there since September 2019), Kennedy said:
It was yet another shockingly tone-deaf moment for this ownership group, one that Kennedy promptly walked back when he followed up by saying that the team will discuss a plan to help them out after all.
Again, it might have just been a matter of poor communication and messaging, but his initial comments of not prioritizing the business side over the people side while simultaneously coming across as if he was doing just that only seemed to justify every criticism Red Sox fans have had of John Henry and his team for the last two decades.
This team won 108 games and their fourth World Series of the century less than two years ago and yet John Henry and his ownership team are despised by the majority of Red Sox Nation. It's a bizarre and unprecedented thing for owners who have won so much to be disliked so strongly by their fans.
More from Red Sox News
Contrast this with the near-universal adulation Robert Kraft enjoys from Patriots fans (despite some missteps of his own) or the way Grousbeck is admired by Celtics fans despite only winning one title during his ownership.
The Red Sox have won more championships since 2000 than any team in Boston except for the Patriots. However, the constant turnover in the dugout (the Red Sox are on their sixth manager of Henry's ownership) and in the front office (Bloom is their fourth GM/head exec) gives the perception of ownership meddling in baseball affairs. Something that has been confirmed by Terry Francona, Theo Epstein, and others who left the team on, shall we say, less than good terms.
Exacerbating the problem is that for a group of people who are so maniacally paranoid about how they control any and all messaging when it comes to the Red Sox, Henry and company are abysmal at it. Whether or not they do the right thing or make the right decision, the messaging is usually handled so poorly that they still take heat for it.
They also give off the whiff of caring about the business side first, the team second, and the fans a distant third, fourth, or lower. At some point, people usually are who they are, so until and unless something changes (which seems unlikely given that it hasn't since 2002), John Henry, Tom Werner, and their group will continue to be the ownership group who wins so much yet are disliked by so many.