Red Sox: Tim Wakefield teams with Subway to renovate Little League field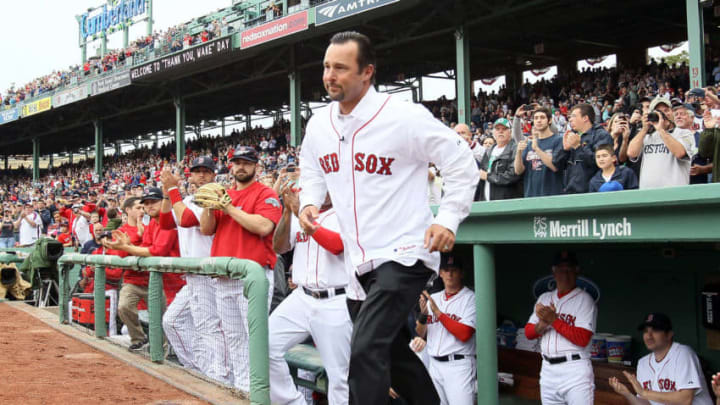 BOSTON, MA - MAY 15: Former Red Sox pitcher Tim Wakefield runs out on to the field before the game against the Seattle Mariners on May 15, 2012 at Fenway Park in Boston, Massachusetts. Wakefield was honored in a pregame ceremony by the Boston Red Sox. (Photo by Elsa/Getty Images) /
Former Boston Red Sox pitcher Tim Wakefield is teaming up with Subway for the groundbreaking of renovations to a Boston area Little League field.
Tim Wakefield gave 17 years of his career to the city of Boston. While his playing days are behind him, the Red Sox Hall of Fame pitcher is still giving back to the community.
Wakefield is teaming up with Subway for the groundbreaking of renovations to the Mission Hill Little League field in Boston. Plans for the field renovations include installing a new scoreboard, upgrading fencing and upgrading the field surface. The renovations are aimed at improving the safety of those using the field and improving the quality of the field.
As a longtime sponsor of Little League baseball, Subway has been contributing funds to renovate fields around the country. Their goal is to bring high quality baseball diamonds where kids can play for years to come.
This renovation project was a perfect fit to get involved with for Wakefield, who grew up playing Little League.
""This is a great way to give back to the community and keep Little League going for years and years and years for these kids to play," Wakefield explained during a phone interview. "I'm really proud to be partnered with Subway because they encourage kids and their families to really live a healthy and active lifestyle.""
Wakefield is certainly no stranger to giving back to the community. During his playing career he was a perennial nominee for the Roberto Clemente Award, which he received in 2010. While nothing can ever top winning the 2004 World Series, being honored with the Roberto Clemente Award means more to Wakefield than other individual accolades because it speaks to his character rather than his accomplishments on the field.
During Thursday's groundbreaking ceremony, Wakefield will have the opportunity to share stories with Little League players about what it was like for him growing up playing baseball.
""Little League was very influential in my life. I played it up until I was 18 years old," said Wakefield. "I learned a lot of life lessons through the game – especially in Little League – from coaches, from teammates, from parents. It truly is life changing being able to learn how to be a good teammate, learning how to accept losses without being defeated, learning how to compete at a high level, making All-Star teams and going to tournaments. I think that really helped me later on in life when I got to the major leagues.""
The conversation of giving advice to young baseball players soon segued into a discussion about the youth on this current Red Sox roster. Wakefield doesn't believe that the youth movement has been a hindrance to the team's playoff aspirations.
The core of this roster is made up of emerging stars like Mookie Betts and Xander Bogaerts. They may be young, but they aren't green. Their rapid ascension through the organization has allowed them to gain valuable big league experience at a young age. Wakefield mentioned how rookie Andrew Benintendi has shined from the time he stepped on the field and he raved about Rafael Devers, who he believes will be a superstar player for years to come.
There has been a bit of controversy lately regarding a lack of leadership with this team. Betts recently made some comments about how this season has been difficult without the veteran presence of David Ortiz to lean on in the clubhouse. While the Red Sox certainly miss Big Papi's 30 home runs and 100 RBI in the lineup, the young players still have the wisdom of experienced players past and present to turn to for advice when they need it.
More from Red Sox News
Wakefield reminisced about how when he was a young player he was able to pick the brains of Jim Rice, Luis Tiant, Dwight Evans and Carl Yastrzemski. Being able to fire questions at them about what it was like to play when they were his age was a great learning experience for him during the early stage of his career.
Now he gets to return the favor by serving as a mentor for the young players today. Wakefield has worked with fellow knuckleball pitcher Steven Wright, who emerged as an All-Star last year. It's clear that Wakefield has embraced this role of being the former player who gets to be around the team and offer advice to any younger player in need.
Boston isn't the only AL East team relying heavily on a core of young players. The New York Yankees have a crop of prospects who are blossoming ahead of schedule, vaulting them into a tight battle with the Red Sox for the division title. The bitter rivalry between the two storied franchises has lain dormant for the last several years as the teams took turns being contenders. Now that's starting to change.
""Now you're seeing this youth movement between both teams from within the organization that is starting to play against each other for a long period of time," said Wakefield. "You can sense that the rivalry is starting to heat up a little bit right now and it's just going to be an exciting series to watch if they both get in [the postseason].""
Next: Red Sox notable August trades
Both teams being back in the hunt armed with young cores should keep the flames of this rivalry burning for years to come. Who knows, perhaps some of those Little League players listening to Wakefield share his experiences today will one day join the rivalry for the next generation.