Boston Red Sox prospects: Max Ferguson could turn heads in 2023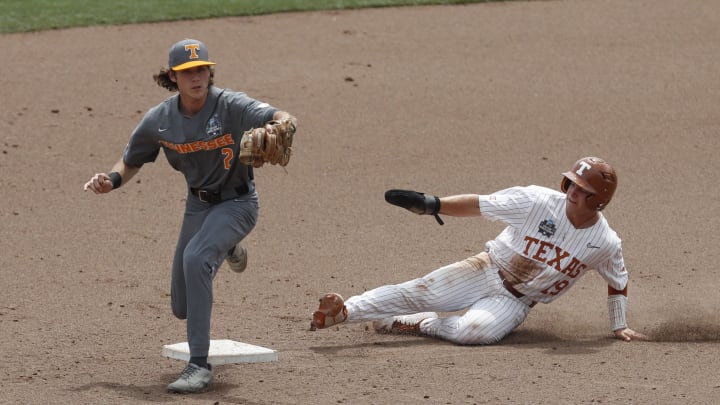 Jun 22, 2021; Omaha, Nebraska, USA; Tennessee Volunteers second baseman Max Ferguson (2) can t make / Bruce Thorson-USA TODAY Sports
The Boston Red Sox had a strange 2022 trade deadline. It saw them simultaneously buy and sell. One move in the "buy" column was a trade with the San Diego Padres. The Red Sox sent pitching prospect Jay Groome to the Padres in return for veteran first baseman Eric Hosmer.
Hosmer wasn't the only piece Boston received in that trade, though. The Red Sox also acquired outfield prospect Corey Rosier and second base prospect Max Ferguson.
Max Ferguson is a Red Sox prospect worth keeping an eye on in 2023
Ferguson enters the Red Sox organization as an exciting talent who was admittedly struggling since his promotion to High-A. Even with that, there is a lot for Boston fans to love.
One look at the overall numbers doesn't tell the full story for Ferguson. He's hitting .213 in his MiLB career and hasn't shown much in the way of power. However, there are a few reasons fans should look beyond these sub-par numbers and keep an eye on the 23-year-old in 2023.
First, Ferguson is still very early in his career. The University of Tennessee product (shoutout to my guy Harry) has only logged 151 games (534 at-bats) in his MiLB career to-date. It doesn't seem fair to judge a player based on a small sample size.
Next, there's the speed. Ferguson only hit seven home runs last season, but he notched eight triples. And even more impressive was his base-stealing ability. Ferguson swiped 61 bases on 66 attempts last season, equating to a success rate of 92.4%. In other words, homie has wheels.
And that brings us to the final point. Speed is a great talent, but it's useless if you aren't getting on base. Ferguson hit .214 last season, but he still managed to get on-base at a strong rate (.366 OBP) thanks to his plate discipline (drawing 96 walks).
While there were clear holes in his game, Max Ferguson still found a way to make an impact in 2022. He used a combination of good fielding, a great eye, and insane speed to get the job done. And once he is given more time to fine-tune his skills and make improvements within the Red Sox organization, he could become a more complete player.
Some Boston Red Sox fans will look at the average and low power numbers and write off Max Ferguson, but we may be in for an eye-opening year from young infielder in his third MiLB season.