Boston Red Sox prospect watch: Major injury news dampens the day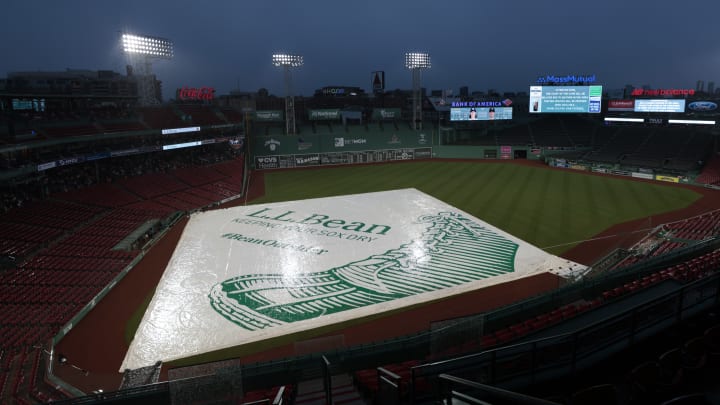 Tampa Bay Rays v Boston Red Sox / Nick Grace/GettyImages
Major injury news dampens the day in this week's Boston Red Sox prospect watch
Some brutal injury news puts a dark aura around this week's Boston Red Sox prospect watch. We saw plenty of great performances and even some promotions. However, the headline has to be on Miguel Bleis.
One of the top prospects in the Red Sox system, Bleis is only 19 and has all the tools in Single-A. He has missed out on the last few weeks due to injury, though. And now it has been announced that he's expected to undergo left shoulder surgery. That means Bleis is likely out for the rest of the season.
That would be tough news to swallow under any circumstances. Your teenage prospect, who seems to be a consensus top-100 at this point, missing out on his first Single-A season because of an injury makes it hurt that much more, though.
Luckily, we have plenty to talk about to take our minds off of it. Let's hope Miguel Bleis has a clean surgery and a good recovery.
Brayan Bello carved out a gem on Sunday. The right-handed pitcher tossed seven innings against the New York Yankees, allowing two runs on three hits and two walks while striking out three batters. Bello has found a groove and is becoming a great pitcher in the Majors. He has a 3.78 ERA, .254 BAA, and 1.34 WHIP in 52 1/3 innings. Bello's struck out 49 batters compared to 17 walks.
Josh Winckowski has a 2.19 ERA, .241 BAA, and 1.11 WHIP in 37 innings out of the bullpen. The righty reliever has struck out 27 batters and walked seven. Winckowski continues to be a star in the bullpen and doesn't seem to let a rough outing phase him.
Masataka Yoshida is slashing .300/.375/.467 with 15 doubles, one triple, and seven home runs. The left-handed hitting outfielder has driven in 33 runs, scored 34 more, and stolen three bases. He has 25 walks compared to 26 strikeouts. Remember when people were worried after he struggled for the first few weeks? Silliness.
Jarren Duran may not get as much playing time now that Adam Duvall is back, but he isn't going to let that slow him down. The left-handed hitting outfielder is slashing .281/.337/.437 with 17 doubles and three home runs. He's driven in 24 runs, scored 17 more, and stolen eight bases.
Connor Wong is slashing .235/.297/.456 with 12 doubles and six home runs. The right-handed hitting catcher has driven in 15 runs, scored 22 more, and stolen one base. Wong has shown plenty of pop this year and has been one of the better defensive catchers in baseball.
I'm going to keep saying it, Triston Casas is about to break out. The left-handed hitting first baseman is slashing .201/.322/.374 with eight doubles, one triple, and seven home runs. He's driven in 19 runs, scored 25 more, and has 33 walks. Casas continuously makes extremely loud outs. That doesn't count for anything, but it shows you that he's getting the barrel on the ball.