Why I expect the Boston Red Sox to capture the American League East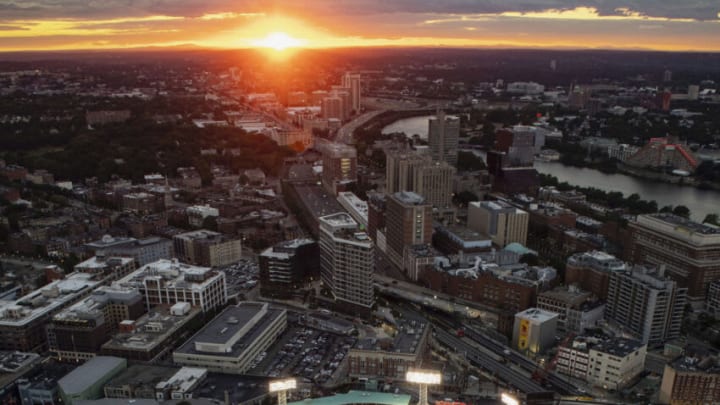 BOSTON, MA - AUGUST 13: An aerial general view during a game between the Boston Red Sox and the New York Yankees on August 13, 2022 at Fenway Park in Boston, Massachusetts.(Photo by Billie Weiss/Boston Red Sox/Getty Images) /
Make your playoff plans, as the Red Sox will win AL East
For the naysayers of the Boston Red Sox, put a lid on it, as this 2023 team will plunder the American League East. Some may say this is jingoism that Teddy Roosevelt would be proud of or provincialism that a local Rotary Club would slobber over, but it will happen. Why this view? Has Nurse Ratchet forgotten my meds? I like the moves.
Rafael Devers's signing will have a positive impact, but they finished last in 2022 with Devers. But the signing removes the drama that circulated Xander Bogaerts last season.
The Bostonians needed a leadoff hitter and found one in Nippon baseball. Masataka Yoshida is a smooth swinging on-base machine, at least in Japan. The Red Sox went big on a 5/90 deal, but Massachusetts had a new millionaires tax for implementation, so a few extra coins were needed.
Yoshida is not a power guy for no Hedecki "Godzilla" Matsui long balls, but Yoshida is a batting champion. With new positioning rules, Yoshida can bounce the ball around. Expect Yoshida to be among the league leaders in doubles. Yoshida will be a table-setting expert that baseball aficionados can fawn over.
Xander who? The Bogaerts soap opera is over; it long ago jumped the shark, as far as I'm concerned. Now Trevor Story will take over with something to prove. Story has a long resume of power-hitting credentials and fielding excellence. This will be the season for Red Sox fans to say Xander who.
Christian Arroyo is solid offensively and defensively. Arroyo's problem is staying on the field. Expect 130+ games in 2023. Depth is Enrique Hernández, who did nothing to merit a one-year $10 MM deal but was that horrific 2022 an anomaly?
First base was a death rattle in 2022, but the Red Sox are going all in on Triston Casas and Bobby Dalbec. The first sack situation could be doomsday for the infield, but I'm all in on Casas, and Dalbec is more than passable at hitting lefties. Then comes Justin Turner. Will he play third and Devers DH? Turner does have some reps at first.
The outfield will be a pure mix and match for Cora. The big issue is just that word big, as in big bat. Will that be solved? A slugger who can DH and go to the yard and not murder the team defensively? A J.D. Martinez in his prime type of player. Unlikely, but formulating a wish list for the offense would be on it.
The Red Sox offense will score as they usually always do, and I expect another addition to help jolt the long ball totals. Defensively expect solid but not extraordinary results. This team will grind away on offense, and then comes the pitching.
I summarized the rotation in a recent article and liked the potential upside. Bloom has gone "numbers" with a possible seven starters, which has a nice room for failure assuming at least one or two fail to live up to expectations.
The closer situation has finally been resolved. Just how much Kenley Jansen has left in the tank will be of interest, and whatever is left will be an improvement over the merry-go-round of last season.
The addition of Chris Martin will be huge. Another hurler considering issuing a walk the same as one would arms smuggling. Joely Rodriguez is a quiet signing – typical of most of Bloom's moves. The go-to lefty, however, will not be Rodriguez but Josh Taylor. John Schreiber is solid and can close in a pinch. Bloom has already shuffled off those with uncertain outcomes, and I like this bullpen.
Has Bloom won over the fans? Only if they win, and they will. I love the personality Turner brings to the team, another Jonny Gomes and Mike Napoli type. The team and a boatload of players have something to prove, which is a motivator.
What can kill the Red Sox chances?
I did not mention catching, and the grand master plan is Reese McGuire and Connor Wong. McGuire was surprising with his bat and was sturdy behind the dish, and Wong has occasional power and won't kill you defensively. No doubt to just about all the denizens of RSN that a combo of Christian Vazquez and McGuire would limit sleepless nights.
First base is another crap shoot for Bloom. Can Casas deliver? Is he going to be the projected power source anticipated? Then comes Dalbec. Of course, with the player profiles the Red Sox have, versatility is a plus. Dalbec has that option as a roster survival tool. They may get another bat for first. Is Trey Mancini still available? Where does Turner fit in?
You live and die with pitching, and in 2022 Boston was on life support. If something can go south on the mound, it invariable does, but this time around, there is depth and a world of "ifs" regarding the staff. The good news is they may be willing to spend and have prospects cashe in case moves are needed.