What to look for from Boston Red Sox prospect Miguel Bleis in 2023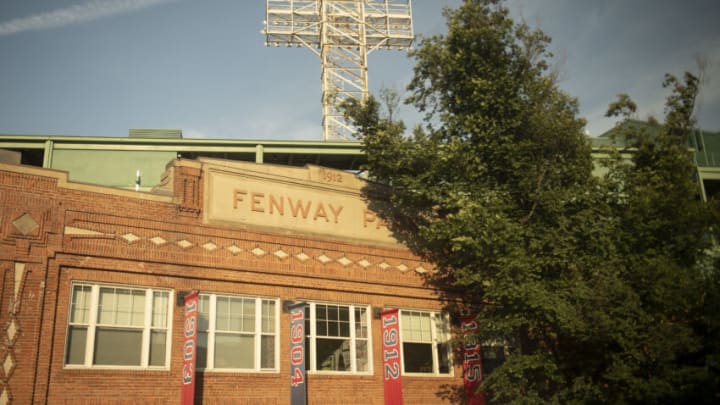 BOSTON, MA - MAY 30: A general view of Fenway Park before a game between the Baltimore Orioles and the Boston Red Sox on May 30, 2022 in Boston, Massachusetts. (Photo by Maddie Malhotra/Boston Red Sox/Getty Images) /
What should you look for from Boston Red Sox prospect Miguel Bleis in 2023?
The Boston Red Sox minor league system saw several prospects shoot up the ranks and find their way into national attention in 2023. Possibly no one had a more meteoric rise than Miguel Bleis.
Despite not playing in any sort of televised games, Bleis captured the imagination of Red Sox fans. The best "tape" anyone can seem to find on the outfielder comes from short TikTok highlights posted. And yet, he's climbed up to fifth in the Boston top-30 prospect rankings and many see him jumping up even further in 2023.
Last season, the right-handed hitter slashed .301/.353/.542 with 14 doubles, four triples, and five home runs over 153 at-bats. Bleis drove in 27 runs, scored 28 more, and stole 18 bases in just 40 games.
Still just 18, he appears to truly have it all. He already grades out above average in every category. Bleis possesses a strong arm and a good glove, he should hit for average with plenty of pop and he has plenty of speed.
All of that creates a prospect that has Red Sox fans buzzing, despite Bleis still being a few years away, seeing as he doesn't have any experience at a full-season minor-league level yet.
What should fans expect from the phenom in 2023 though?
Many will probably be hoping for bonkers numbers. They'll be expecting Bleis to run through the low levels of the minor leagues in 2023 with video game numbers. And honestly, that's not impossible.
But you need to remember that he's going to be 19 for the entirety of the upcoming season. And he has zero experience even in Low-A yet. So while you should expect production in every area, it's more about the progress he makes, the quality of his at-bats, how he looks in the field, and things of that nature.
Something that seems hard to explain to people sometimes is that you can't just boxscore watch. Go on Twitter and you'll see it all the time. People will tell you that Marcelo Mayer's 2022 season wasn't good because he didn't hit .350 in Low-A and High-A. They won't talk about how patient his approach was, the great defense he played, his smart base running, or how he worked through a slow start (and even then he was hitting the ball hard, just right to gloves) in High-A after his promotion to slash .452/.553/.710 over eight games in September to end his season.
It's not their fault usually. You can't blame people for not watching A-ball baseball games, especially when the Major League games are on as well. But simply looking at stats in the minor leagues will never tell even close to the full story.
With that in mind, we'll want to see Bleis work counts. His power and speed combo will lead to a lot of electricity. But that has a cap if he doesn't show some patience.
Another big thing will be consistency and how he works through slumps. Baseball seasons are long, even the best players go through slumps. How they manage to get out of them is what separates the greats though.
Personally, watching that defense is important to me. The flashy plays are great and I'll probably be posting a lot of his highlights on Twitter throughout the year (shameless plug follow me on Twitter @hunter_noll). There's more to defense than diving plays though. Does he make it look easy? Is he tracking the ball well? How does the arm look?
For the base running is it just Bleis being fast? Or is he smart on the base paths as well? Is he running into outs or creating runs with his legs?
Yes, at the end of the year the stats will matter. But there is so much more that goes into it. Miguel Bleis is one of the most exciting prospects the Boston Red Sox have had in a long time. 2023 is set to be his first year in the full levels of the minor leagues. Keep an eye out on him, and try to pay attention to every aspect of his game – that's where you see the true signs of growth and the player he could become.