Red Sox owner John Henry receives ice-cold welcome at NHL Winter Classic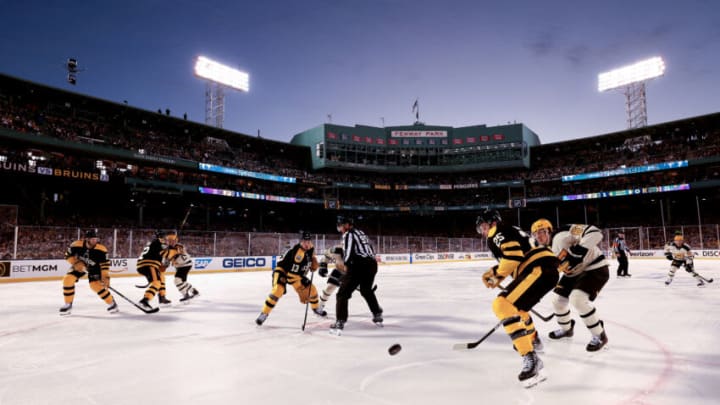 BOSTON, MASSACHUSETTS - JANUARY 02: A general view during the third period between the Boston Bruins and Pittsburgh Penguins in the 2023 Discover NHL Winter Classic at Fenway Park on January 02, 2023 in Boston, Massachusetts. (Photo by Gregory Shamus/Getty Images) /
Typically, an NHL game in early January wouldn't have anything to do with the Boston Red Sox.
But when the venue and one of the teams in question are owned by Red Sox ownership, the Venn diagram becomes a circle.
On Monday, Red Sox principal owner John Henry arrived at Fenway Park for the NHL Winter Classic and received a welcome colder than the ice on his baseball diamond. The fact that it's currently the MLB offseason shielded him from fans' ire about as well as a raincoat made entirely out of sponges would help in a monsoon.
The Red Sox have failed to retain their best homegrown players, and their ownership's mind is clearly elsewhere. Among Fenway Sports Group's many holdings, they own Fenway, the Red Sox, and as of December 31, 2021, the Pittsburgh Penguins, who faced off against the Boston Bruins. They also purchased Liverpool Football Club in 2010, and are rumored to be the frontrunners to land an NBA expansion team for Las Vegas.
With too many irons in the fire, the Red Sox appear to be burning to a crisp. As their ownership eyes has eyes on new horizons, they're sinking into the rearview mirror like a dulling sunset. As such, several fans took it upon themselves to make their voices heard.
Red Sox owner John Henry booed at NHL Winter Classic at Fenway
Jokes abounded as the Bruins paid homage to their host team by showing up in throwback Red Sox uniforms, playing catch (having a catch), and palling around with Kiké Hernández, the official on-field correspondent for Monday's event.
Henry was also on the receiving end of some very pointed tweets about the Bruins needing to extend David Pastrnak, a beloved homegrown star who's been with the team since they drafted him in 2014. Sounds familiar.
Since trading Mookie Betts to the Los Angeles Dodgers in February 2020, Henry and the rest of Red Sox ownership have come under fire for avoiding the media. Fenway Sports Group, which purchased the club for $660M in 2002, is now nearly $10B in valuation. According to Forbes, Red Sox are close to a $4B valuation. That figures to still be the case in 2023, even though the Sox are coming off their worst season by attendance since 2000, and finished last in the division for the second time in three years. None of that seems to matter to Henry & Co; they'll be billionaires regardless.
So on Monday, when Henry sat in the ballpark he owned, watching another team he owned, it's safe to assume he was able to drown out the noise.