3 Yankees decisions that seriously impact Red Sox offseason, 2023, and beyond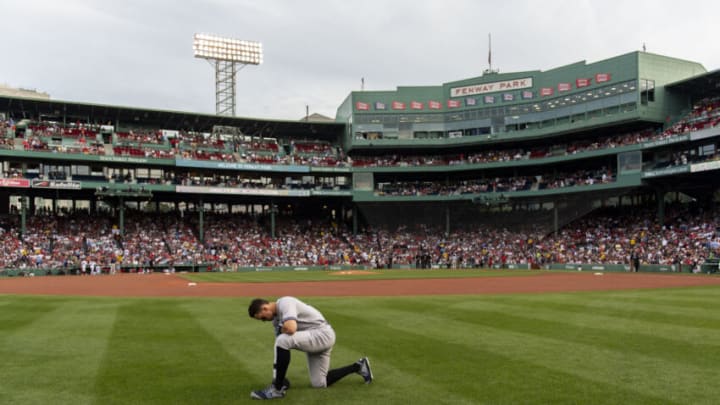 BOSTON, MA - JULY 8: Aaron Judge #99 of the New York Yankees pauses before a game against the Boston Red Sox on July 8, 2022 at Fenway Park in Boston, Massachusetts. (Photo by Billie Weiss/Boston Red Sox/Getty Images) /
Yankees' offseason decisions will impact Red Sox' future
Over the last two decades, the New York Yankees have become a baffling puzzle.
They spend, but they're no longer the biggest spenders. They have superstars, but they also pass on superstars. They haven't had a losing season since the early 1990s, but they also seem content to make the postseason and
A 'fully armed and operational battle station' this Death Star is not.
So, what are the Yankees going to do this offseason after getting swept out of the ALCS by the Houston Astros? And why should the Boston Red Sox and their fans care?
Even though divisional play is set to reduce from 19-game season series to 13 games in order to allow for more inter-league play, how the Yankees conduct themselves this offseason and the roster decisions they make will impact the Sox because they're storied rivals, they have some overlapping needs, and they're targeting some of the same free agents; competition doesn't end when a team takes home the Commissioner's Trophy.
Let's examine a trio of Yankees issues with resolutions that could seriously impact the Red Sox this offseason and next year:
1. Brian Cashman and Aaron Boone will remain with the Yankees in 2023
George Steinbrenner must be spinning like a dreidel in his grave at the low standards in the Bronx since his passing in 2010.
Objectively speaking, it's shocking to see how the Yankees operate now compared to their 1990s-early 2000s heyday. Brian Cashman is somehow untouchable despite the fact that the Yankees haven't won a pennant in over a decade, let alone a World Series, and the hiring and continued employment of Aaron Boone gives off 'guy who graduated but still hangs out at his old frat house' vibes. He came into the job with zero coaching or managerial experience, his resumé consisting of being a third-generation MLB player and one horrible home run in 2003.
Hal Steinbrenner could've fired Boone last fall when the Yankees got smacked by the Sox in the Wild Card game. Instead, he gave him a contract extension. Cashman's contract was up this fall, but he's reportedly returning, too. To flip a colloquialism on its head, the Yankees are broke, and Hal ain't fixing them.
The elder Steinbrenner wouldn't tolerate anything less than a championship, and his precious team hasn't won one of those since the year before he passed away. Of course, if the Yankees want to continue to make early postseason exits, no complaints here. Hopefully, the continued mismanagement in New York will make this offseason and next season more successful for Boston.
2. Could the Yankees steal Xander Bogaerts from the Red Sox?
The Yankees have a couple of top prospects/rookies who are supposed to be dazzling infield talents – Oswaldo Cabrera and Anthony Volpe – but they have checked in with Xander Bogaerts' camp about the free-agent shortstop. Their last few years have been cobbled-together mediocrity at the position; their last true everyday shortstop was Didi Gregorius, who departed for the Philadelphia Phillies ahead of the 2020 season.
Losing Bogaerts to the Yankees is pretty much the worst-case, nightmare scenario, and it could happen. Bogaerts has been adamant about wanting to spend his entire career in Boston, but the Sox have mishandled negotiations with him all year. If the Yankees throw money at him and the Sox continue to insult him, Bogaerts could follow in Johnny Damon's and Jacoby Ellsbury's footsteps and put the pinstripes on. Another landing spot is likelier, but this would hurt for a very long time.
3. Will the Red Sox make an offer to Aaron Judge?
Even more dramatic than Bogaerts switching sides would be if the Sox managed to steal Aaron Judge from the Yankees.
The Yankees made Judge an offer of seven years, $200+ million last spring, and Cashman confirmed earlier this month that they've upped the ante, though he declined to get into specifics.
Judge is exactly the kind of free agent the Sox like to overpay, but there's a slew of reasons why they shouldn't empty the coffers for him. He has a lengthy injury history, doesn't hit particularly well at Fenway, and he'll be 31 in April. He's looking for a decade-long deal and the Sox should let someone else wear it.
Best-case scenario, the Yankees fumble the bag and a team like the San Francisco Giants signs Judge, taking him out of the American League and off Boston's radar almost entirely.