Two reasons Xander Bogaerts' diminished power in 2022 won't hurt his free agency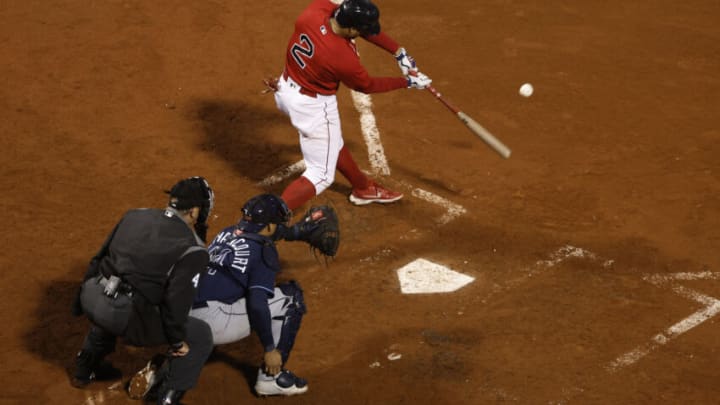 BOSTON, MA - OCTOBER 4: Xander Bogaerts #2 of the Boston Red Sox hits a grand slam home run during the fifth inning against the Tampa Bay Rays at Fenway Park on October 4, 2022 in Boston, Massachusetts. (Photo By Winslow Townson/Getty Images) /
Will Xander Bogaerts' diminished home-run power hurt him in free agency?
Xander Bogaerts only hit 15 home runs in 2022, and because of that outrageous display of failure, many have overlooked or undervalued his performance this year.
Doing so is a mistake.
The free-agent shortstop, formerly (and hopefully soon-to-be) of the Red Sox, had one of the better seasons in a very bad Boston year. That he only hit 15 home runs – as if making any kind of contact with a major-league pitch isn't inordinately difficult – doesn't tell the full story.
If home runs are the only metric that matters to you, you're missing out and doing a disservice to great players who contribute something other than the long ball. Bogaerts' home runs (or lack thereof) aren't going to stop him from commanding a hefty contract this winter, hopefully from the Red Sox, for two reasons:
First, consider that Bogaerts played injured for a significant portion of the season. A late-May collision with Alex Verdugo in the outfield shallows hurt Bogaerts' arm and shoulder. At the time, Bogaerts was hitting .326/.388/.465 with eight doubles and four home runs over the first 38 games of the season. He proceeded to play through the pain, but required multiple cortisone injections and admitted that the incident messed up his swing.
Second, note that many players – including Bogaerts' teammates – struggled to hit the ball out of the yard in 2022; Rafael Devers was the only hitter on the roster to reach 20 home runs. It's a leaguewide issue; in 2019, 58 players hit 30+ home runs and MLB set a record with 6,776 homers; in 2022, there were only 5,215, and 30 players hit 30 or more. The league's barreled ball results are shocking:
""Barreled balls (defined by MLB.com as balls hit 98-plus miles per hour at a launch angle that typically yields an extra-base hit) to the pull side saw a slight drop in the frequency with which they left the yard. In 2019, a pulled barrel resulted in a homer 74.3 percent of the time; in 2022, that was down to 65.7 percent.But to center and the opposite field, the decline was profound. Barreled balls turned into homers with roughly 31 percent less frequency when hit to straightaway center, and with 29 percent less frequency when hit to the opposite field."via Boston Globe (subscription required)"
These numbers don't exactly excuse Bogaerts' diminished power, because he's been a pull-hitter throughout his decade-long career; only 16 of his 156 home runs were hit to the opposite field. And of his 15 home runs this year, 10 are listed as 'fly ball to deep left field' on Baseball Reference, three are 'LF-CF,' and one was hit dead-center. Only two went 'oppo' to deep right field, curiously, within four days of one another in mid-September.
As long as MLB keeps messing with the balls, the game will suffer, be it pitchers in juiced-ball years, or hitters in dead-ball seasons. Playing puppet master with the baseballs doesn't appear to be hurting Bogaerts in free agency, though. Look at the rest of his offensive production this season, and it's easy to see how much he has to offer. He hit .300+ for the third time in the last four seasons (he hit .295 last year) and collected 171 hits (15 more than last year) and 38 doubles. Most players struggling to hit home runs weren't doing any of that.
Bogaerts is also coming off the best defensive season of his career, he won his fifth Silver Slugger in 10 seasons despite the drop in power, and he's widely regarded as an incredible team leader and role model for younger players. For all these reasons and more, he's projected to command a contract in the 7/8-year, $190-225M range.
In other words, if half the league is willing to look past him only hitting 15 homers in 2022, the Red Sox should be, too.