The Boston Red Sox need an infusion of baseball panache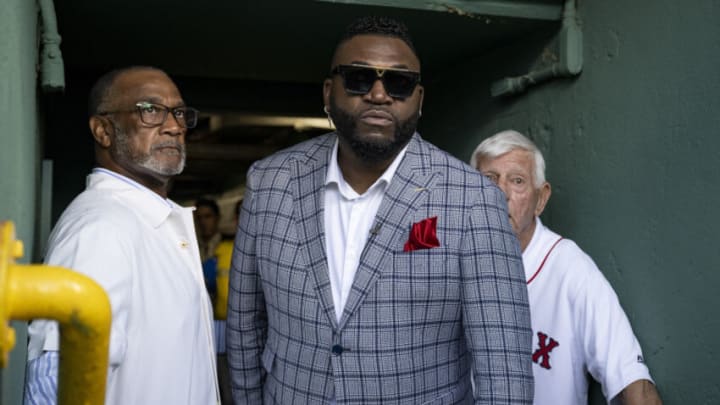 BOSTON, MA - JULY 26: Former Boston Red Sox designated hitter David Ortiz takes the field for a ceremony honoring his induction into the Baseball Hall of Fame ahead of a game against the Cleveland Guardians on July 26, 2022 at Fenway Park in Boston, Massachusetts. (Photo by Maddie Malhotra/Boston Red Sox/Getty Images) /
Red Sox need an infusion of baseball joie de vivre.
Baseball history, which certainly encompasses the Boston Red Sox, has seen players whose contributions to the team often exceed their numerical contributions. Some may classify that as "intangibles," which have so far escaped metrics quantifications.
Is it a force of personality? David Ortiz was such a player who combined both measurable and nonmeasurable attributes. Larger than life? That is applied. A force of nature dominates their clubhouse or the playing field itself. Ortiz was unique. I would also place Dustin Pedroia and Pedro Martinez in the same sphere as Ortiz, but Ortiz and Pedro have that Hispanic credo.
A counterbalance to Ortiz in Red Sox history would be Ted Williams. Williams and the great Joe DiMaggio both gave off an aura of aloofness. They are remarkably talented players but unquestionably not dominant with their clubhouse personalities but with their statistical accomplishments.
The Red Sox have a leadership problem. Something is missing. Maybe it does exist in the confines of the clubhouse, a long road trip, practice sessions, or even the more pronounced media exchanges. I don't see Mike Napoli or Jonny Gomes on this team.
Players like Napoli and Gomes have been around the baseball block. They know the game, and they are innate to address issues that need to be discussed in a private and not public forum. Players like Napoli and Gomes – just two examples I have chosen – have other players' attention over a force of personality. The euphemism of "good clubhouse guy" is occasionally connected to such players, and others may say "clubhouse cop."
A temper tantrum does not necessarily show this leadership form, but it can be a spark. Chris Sale did so a few seasons ago, but volatility goes just so far. That method wears thin, and you can squeeze so much volatility into 162 games.
Where do you get such a player?
I am doubtful that the Red Sox would administer a personality test to a pending free agent or make it a requirement in a trade, but baseball does use personality testing. Teams use mental training and personality profiling, and the Red Sox organization has a department of behavioral help. After last season do ticket holders get complimentary service?
Baseball is a closed environment or an insular community. Rumors, gossip, and even legitimate facts are known within the community, which applies to players, coaches, managers, and the executive ladder. There are no secrets unless you are outside the circle, and a team knows just what goods are delivered via a trade or free agency.
If a player (or others) has a reputation for being a loose cannon, a drinker, a womanizer, and any other potential flaws, it is known or should be with due diligence. There is no surprise that Pablo Sandoval had a conditioning problem or that J.D. Drew was a soft player.
Ortiz was the penultimate lightning rod for on and off-field performance. A larger-than-life personality with limited filters, a reputation as a top-notch hitter, and a rare find. You can't manufacture an Ortiz, Pedroia, Pedro Martinez, Gomes, or Napoli. Finding such a player is reminiscent of Justice Potter Stewart's "I know it when I see it" regarding pornography. The same may apply to leadership.
A player or players with a particular leadership pedigree often do the tasks that are traditionally the responsibility of a manager. Taking a player aside and saying this is how we do things, be it on or off the field. Is that missing? If not, is it possible more is needed, especially with young players? Reading or personal accounts of successful veterans often credit those who mentored them as newbies. Sometimes a verbal and even a physical dope slap took place.
In a historical context, does history make the man, or does the man make history? A player may have all the attributes mentioned, but that languishes, on a team that is a failure, or is it? A cohesive force is needed in both dark and light times. The previously mentioned Ortiz has seen both sides of the coin, and a player like that can be a stability point on those overcast days. And last season it was about as dark as it can get.
Winning is important but winning with panache is exhilarating. Boston had neither in 2022, and that will doubtfully change in 2023. However, it is possible that somewhere, such a force will surface spirited on my resurgent team. Otherwise, this team needs an infusion of baseball joie de vivre.