What to know about Miguel Bleis, the best Red Sox prospect since Rafael Deversa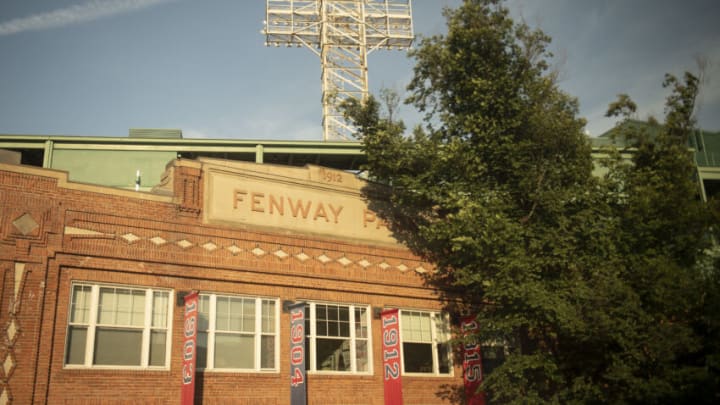 BOSTON, MA - MAY 30: A general view of Fenway Park before a game between the Baltimore Orioles and the Boston Red Sox on May 30, 2022 in Boston, Massachusetts. (Photo by Maddie Malhotra/Boston Red Sox/Getty Images) /
Red Sox prospect Miguel Bleis drawing comparisons to Rafael Devers
No prospect in the Boston Red Sox organization captured the imagination of fans this season more than Miguel Bleis.
Don't get me wrong, people were going crazy over Ceddanne Rafaela, Marcelo Mayer, and others. But Bleis was whipping fans up into a frenzy without them ever even seeing him play though; that's different.
It isn't just Red Sox fans getting excited about the outfielder though. Bleis is getting the hype-train treatment from the national media as well. Jim Callis of MLB.com recently called him "Boston's best international prospect since Rafael Devers".
That's uhm, high praise.
Bleis entered the year as an exciting prospect in the FCL (Florida Complex League) to keep your eyes and ears open for. A couple of months later and he's now considered a can't-miss prospect that has fans absolutely drooling.
Bleis slashed .301/.353/.542 with 14 doubles, four triples, and five home runs in 40 games (153 at-bats) in the FCL this season. The right-handed hitter drove in 27 runs, scored 28 more, and stole 18 bases on just 21 attempts.
Bleis is a legitimately terrifying combination of speed, power, contact, defense, and arm. The literal definition of a five-tool player.
It still hurts that we were all robbed of getting to see him finish the year in Low-A due to an injury. Those couple of weeks likely would've only made fans even more rabid.
Bleis will likely start the year with the Salem Red Sox next season, playing the entire 2023 campaign as a 19-year-old.
Being compared to Rafael Devers would put pressure on anyone. Miguel Bleis isn't a normal prospect though. It's extremely early, but it doesn't feel like a stretch to put that "best international prospect since Devers" tag on him. And that could get even more traction as the 2023 season goes on.
We might see Bleis make his way to High-A by the end of the year. The national media going from giving him the occasional mention to touting him as one of the best prospects in the game is a realistic possibility.
Let me put it this way, I am constantly told I am too positive when it comes to the Boston Red Sox system. Despite that, I've also been told I'm not hyping Miguel Bleis up enough (even though I'm all-in on him). That's how excited fans are for the Dominican Republic native. And it looks like we can now count Jim Callis as a member of the Bleis brigade (batch? bunch? boat? let's stick with "brigade" for now and we'll circle back to it later).