David Ortiz explains why Red Sox fans should have hope for Xander Bogaerts extension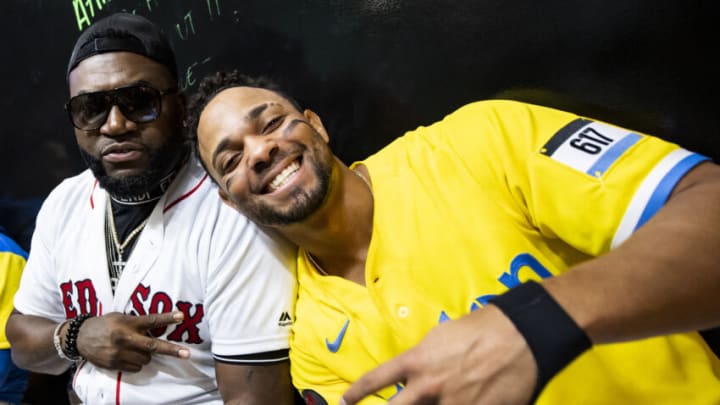 BOSTON, MA - JUNE 20: Former Boston Red Sox designated hitter David Ortiz poses for a photograph with Xander Bogaerts #2 of the Boston Red Sox before a pre-game ceremony to present former left fielder Manny Ramirez with his Boston Red Sox Hall of Fame plaque before a game against the Detroit Tigers on June 20, 2022 at Fenway Park in Boston, Massachusetts. (Photo by Billie Weiss/Boston Red Sox/Getty Images) /
After months of campaigning on Xander Bogaerts' behalf in the form of logic, warnings, and even the occasional name-calling, David Ortiz is taking a different approach in his efforts to get the Boston Red Sox to pay up.
Hope.
Speaking to Alex Speier of the Boston Globe (subscription required) this week, Ortiz drew on his personal experience with the Sox' negotiating tactics:
""I'm not going to lie to you, sometimes the Red Sox like to wait on certain things. The longer you wait, the more it's going to cost you, but they always were willing to pay. That's a good thing. That gives hope for Bogey to come back.""
To Ortiz, most would respond that the Sox already have waited. He's aware of that, seeing as he's been on this campaign trail for months.
However, the situation is different in a significant way. Few sluggers could replace Ortiz, who is undisputedly the greatest postseason hitter in franchise history. Bogaerts, while irreplaceable in the eyes of most people who've seen his impact on the field and in the clubhouse, is one of a few elite shortstops (possibly) hitting the market this offseason. The Sox have had a wandering eye in the past; Ortiz knows this, too. Boston could pursue Carlos Correa, Trea Turner, or Dansby Swanson, instead of retaining Bogaerts, who has more rings or offensive pedigree than any of them.
If anything, the Sox trying to underpay Ortiz when they knew how irreplaceable he was should be cause for concern with Bogaerts now. The organization's efforts to extend him have been lackluster, at best. While other shortstops around the league have received enormous contracts, the Sox made their unofficial captain – who's arguably better than most of his fellow shortstops – one meager, insulting offer back in the spring, an additional year and $30M tacked onto his current team-friendly deal. It's been crickets ever since, aside from various members of the front office raving about him to the media in a saccharine and empty way.
Hard to hope when the Red Sox usually say "nope."