Yankees fans' ALCS behavior could drive Aaron Judge straight into Red Sox' arms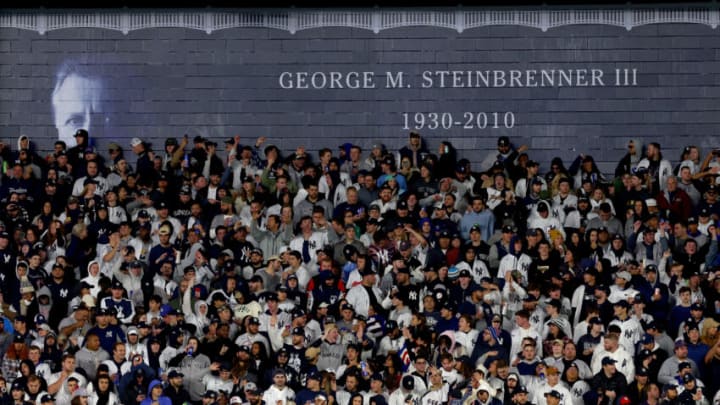 NEW YORK, NEW YORK - OCTOBER 18: Fans look on during the seventh inning in game five of the American League Division between the Cleveland Guardians and New York Yankees Series at Yankee Stadium on October 18, 2022 in New York, New York. (Photo by Elsa/Getty Images) /
New York Yankees fans* are truly their own worst enemy.
After 27 championships, they're cocky. They chant "Who's your daddy?" and "We want Boston/Houston/anyone about to beat them." Even though their team hasn't won the World Series since 2009 and loses in the postseason pretty much every year since, they keep asking for trouble, and they get it.
But what they've been doing in the ALCS could come back to bite them in both the short and long term, because if they keep booing Aaron Judge, he might just up and leave.
On Saturday night, as the Yankees lost the third of three ALCS games thus far, the pinstriped crowd serenaded Judge with boos.
It's wild to see how things turn on a dime in the Bronx. Imagine booing your player who just broke the American League regular-season home-run record that's stood since 1961. A homegrown star who wears a "New York or nowhere" sweatshirt and kisses the Yankees logo on his jersey. The guy who's about to become a free agent and could decide, 'I don't need to put up with this. There are teams that will pay me even more money and have decidedly less fanatical supporters.'
Teams like the Boston Red Sox.
I'm half-joking.
As fans of the franchise with more than double the championships of any of their fellows, Yankees supporters are spoiled beyond compare. The overwhelming success has made them sore winners and sore losers, hence the way they handle everything from the slightest inconvenience to an appalling postseason collapse.
Meanwhile, Red Sox Nation is passionate (sometimes to a problematic extent) in its own way: demanding, involved, nosy, unceasing… However, those qualities come from a place of good intentions, devotion, even love. The relationship between a team and its fans is marriage-esque, and this particular fan base has a lot of experience with the latter half of "for better or for worse." After all, many Sox fans grew up during the 86-year drought. This year, the Fenway Faithful showed up and root, root, root-ed for their last-place home team, even when they gave up a franchise-record 28 runs in one game. Right up to the final game of the regular season, long after mathematical elimination, fans were in the stands, showing their support for the lost, but still beloved, cause.
This isn't to say that Red Sox fans are perfect and not a single one has ever booed their own players, but it's rare, certainly not a common occurrence as it is on the other side of the Rivalry. On occasion, Yankees fans will even cheer for the opponent. When players were introduced at Game 3 of the 2018 ALDS, the first game of the series to take place in New York, Yankees fans booed Giancarlo Stanton and then gave David Price a standing ovation. Sure, it was somewhat sarcastic, as he'd been knocked around by the Yankees, which allowed them to take Game 2, but that's still quite a collective effort just to be snarky.
Judge isn't having a great postseason – he's 5-for-32 overall – but it's not like this whole Yankees' collapse is his fault. He's their most important hitter, but he's one of nine in the lineup. It's certainly not his job to pitch. Great ghost of Babe Ruth, these people have me defending a Yankee.
The Yankees have plenty of issues contributing to this collapse. Their manager's claim to fame is one big hit in the postseason. They've had the same GM since the Clinton administration, and much of his success in the 90s can be attributed to the players he inherited from his predecessors. Hal Steinbrenner is trending on Twitter for destroying what his father built.
There's no denying that having the right people in charge trickles down to the field level; just look at what Dave Dombrowski and Rob Thomson are doing with the Philadelphia Phillies this season. Though, of course, if the Yankees want to continue ignoring these top-level issues, Red Sox fans won't complain.
The topic of Judge defecting to Boston has been dissected ad nauseam this season and doesn't seem realistic for several reasons. But there are quite a few teams gearing up to make Judge an offer they hope he won't refuse, and Yankees fans might be making that decision for him.
In other words, if Yankees fans aren't careful, they'll lose a lot more than this series.
---
*Many fans, certainly not all of them. No fan base is a monolith.