Boston Red Sox prospects: What to make of Izzy Wilson's 2022 turnaround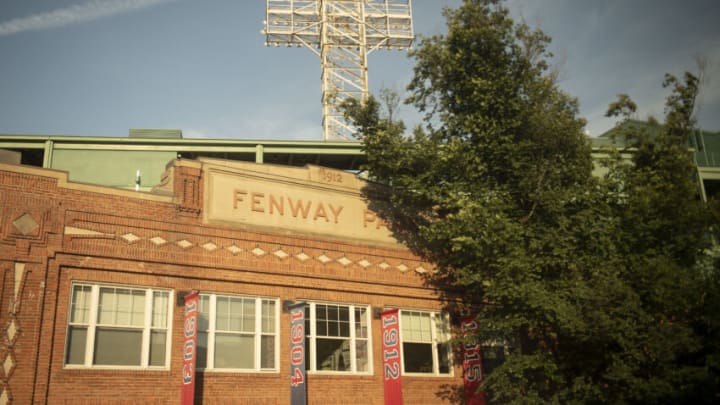 BOSTON, MA - MAY 30: A general view of Fenway Park before a game between the Baltimore Orioles and the Boston Red Sox on May 30, 2022 in Boston, Massachusetts. (Photo by Maddie Malhotra/Boston Red Sox/Getty Images) /
What to make of the late turnaround of Boston Red Sox prospect Izzy Wilson
The Boston Red Sox brought outfield prospect, Izzy Wilson, into their minor league system this offseason. There were obvious reasons to be optimistic about him, but things spiraled pretty quickly.
Following an 0-for-3 game on May 27, Wilson was slashing .100/.198/.167 through 90 at-bats in Double-A. A short four-game hitting streak gave us a glimpse of his offensive talents. But that didn't last long. The numbers improved, only slightly though. Heading into July 7, Wilson was slashing .118/.235/.201 in 144 at-bats. That wasn't a "small sample size" anymore, and if we're being honest it felt like he wasn't going to be around much longer.
Then came a, quite frankly, insane five-game hitting streak. This streak saw Wilson go 2-for-6 (with a homer), 2-for-2 (with a double, a triple, and two walks), 2-for-6, 3-for-4 (with a double), and 4-for-4 (with a triple and two home runs). That stretch saw the left-handed drive in 13 runs, score nine more, and steal a base as well.
Overall, the numbers still didn't look good. And he came back down to earth after that stretch but was still improved from his early season production. This was a reminder of his skills though. We saw ups and downs from that point on. That is until the calendar turned over to September.
Wilson went 18-for-50 with Portland in the final month of the season. The exact slash line in that time was .360/407/.680 with five doubles, one triple, and three home runs. This was clearly the push the Red Sox were looking for.
Wilson was promoted to Triple-A for the last handful of games in 2022. There he went 1-for-7 with a double, two RBI, and a walk. This included some hard-hit outs.
Did this late-season turnaround mean anything? Let's look at the numbers.
In total on the year, Wilson slashed .213/.307/.408 with 16 doubles, three triples, and 13 home runs between Double-A and Triple-A. He drove in 46 runs, scored 52 more, and stole 13 bases as well.
That's not a terrible season. It's not great, but the late push showed that he has a great all-around game. And we also need to remember this was coming off the heels of a pretty phenomenal 2021 season. In just 83 games (all in Double-A) last season, Wilson slashed .247/.328/.486 with eight doubles and 21 home runs. He drove in 53 runs, scored 51 more, and stole 25 bases.
The average isn't jumping out at anyone, but that's a 20/20 season in just 83 games. And the fact that he didn't lay down after such a slow start in 2022 is encouraging.
This isn't an article trying to convince you that Izzy Wilson is the left-handed hitting Adolis Garcia. He's now in Triple-A and will be 25 for the entirety of the 2023 season though. If he can keep that success he had from July 7th on (.250 with nine doubles, three triples, and 11 home runs), his stock will rise.
The Boston Red Sox will likely make a couple of big moves this winter. That doesn't mean they won't need cheap depth options. Wilson's proven he has all-around talent. This late-season turnaround could be the catalyst for a run that leads to a Major League debut with Boston in the future.