Timing of Atlanta Braves' Spencer Strider extension calls Red Sox offseason into question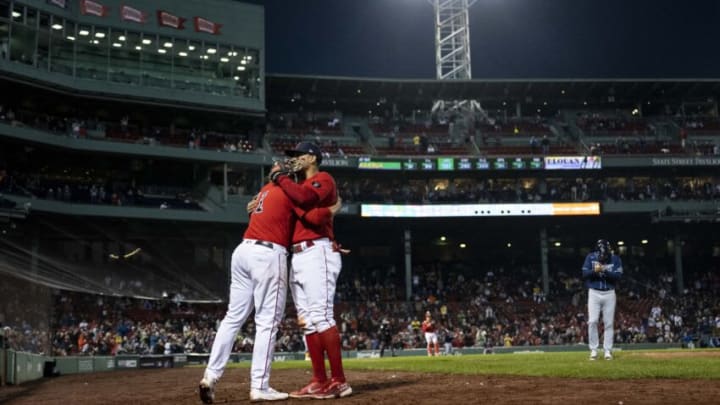 BOSTON, MA - OCTOBER 5: Xander Bogaerts #2 of the Boston Red Sox hugs Rafael Devers #11 as he exits the game during the seventh inning of a game against the Tampa Bay Rays on October 5, 2022 at Fenway Park in Boston, Massachusetts. (Photo by Billie Weiss/Boston Red Sox/Getty Images) /
The Atlanta Braves open the NLDS against the Philadelphia Phillies on Tuesday, but clearly, that didn't stop them from locking in a promising player for the future.
On Monday morning, the Braves extended Spencer Strider. He's now under contract through at least 2028; his $75M contract includes a $22M option or $5M buyout for 2029.
Meanwhile, what are the Boston Red Sox doing? Where are the Xander Bogaerts and Rafael Devers extensions?
Before you say that these things take time, the Sox have had plenty of time. And right now, they have nothing but time. They certainly have no postseason run to distract them from securing their own stars. The ongoing playoffs – a nagging reminder of their own failure this season – should only motivate them to get to work for next year and beyond.
At their end-of-season press conference last Thursday, the brass emphatically stated that they were getting right to work on retaining Bogaerts, who could opt out next month and become a free agent for the first time in his decorated career. They also say they're focused on extending Devers, but he is less time-sensitive, as he won't reach free agency until next year.
Strider's deal is nothing compared to what Bogaerts and Devers will command, but that's beside the point; the Braves have been extending their young stars all season long. Since their March extension of Matt Olson a day after acquiring him from the Oakland A's, they've inked Austin Riley, Michael Harris II, and now Strider.
If the Red Sox are serious about retaining Bogaerts and Devers, they will. Both players want to remain in Boston, and no reports have suggested that either player is asking for an outrageous sum to stay; they want what they have earned.
Unfortunately, the club's initial proposals don't back up their refrain that they want to keep either guy. They've made insulting offers to each player, absurd sums for a franchise whose ownership is approaching $10B in valuation. The Sox actually used Olson's eight-year, $168M extension as a "basis" for their own proposal to Devers. For Bogaerts, they simply suggested tacking an additional year and $30M onto his current contract, a very team-friendly extension he initiated with the Sox back in 2019.
The Sox have more time and more money than the Braves.
They need to spend more of both on their cornerstone players.