Boston Red Sox top-30 prospect rankings after 2022 MiLB season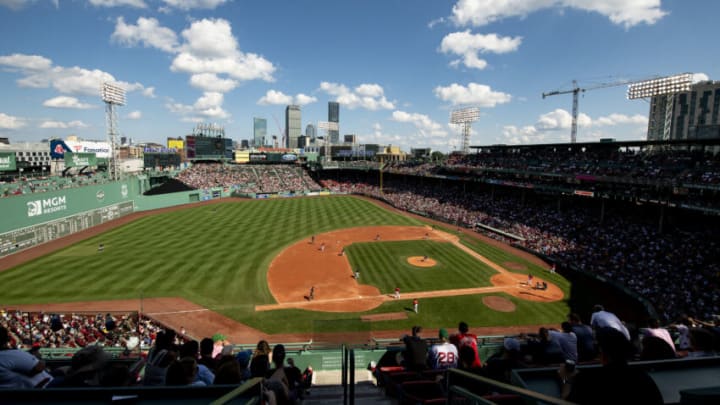 BOSTON, MA - SEPTEMBER 6: A general view during a game between the Boston Red Sox and the Tampa Bay Rays on September 6, 2021 at Fenway Park in Boston, Massachusetts. (Photo by Billie Weiss/Boston Red Sox/Getty Images) /
FORT MYERS, FLORIDA – FEBRUARY 27: Bryan Mata #90 of the Boston Red Sox delivers a pitch against the Philadelphia Phillies in the second inning of a Grapefruit spring training game at JetBlue Park at Fenway South on February 27, 2020 in Fort Myers, Florida. (Photo by Michael Reaves/Getty Images) /
No. 3: Red Sox starting pitching prospect Bryan Mata
You don't have to go back all that far to find a time when Bryan Mata was considered one of the best pitching prospects in all of baseball. He was dominating at every single level he went to, despite consistently being the youngest player (or at the very least one of the youngest) in whatever league he was in at the time.
Then came 2020 though, and Mata missed the entire year due to the MiLB season being canceled because of the pandemic. Okay, whatever. Every prospect missed out on that year, so it's a wash. But then Mata suffered an injury in Spring Training 2021. This forced him to get Tommy John surgery, and suddenly he was out for the second year in a row.
It wouldn't have surprised me if losing two years died down a little bit of the buzz around Mata. The fact that it seemed to kill most of the buzz is a different story though. I understand there would be questions surrounding someone who hadn't pitched in two years but did people really forget how nasty El Idolo was?
The right-handed pitcher quickly reminded everyone of his dominance though. Mata returned in 2022, starting his journey with a short stop in Low-A. He jumped to High-A for a slightly-longer time, before moving up to Double-A for the majority of the year. Finally, Mata made his Triple-A debut to end the season – getting a few starts at the level.
The 23-year-old tossed 83 innings between those four levels. He posted a 2.49 ERA, .201 BAA, 1.28 WHIP, and 105 strikeouts in that time. Mata did walk 46 batters as well, and command has always been a bit of an issue for him. But he took a major step forward in that area in 2019. So this could just be him getting back on track. Let him get some more time in post-injury before worrying too much about that.
Fun little stat. In his final start of 2019, Mata set a career-high with nine strikeouts in a single game. History repeats itself apparently because in the final start of 2022 Mata did it again. This time he set a new career-high with 10 strikeouts in a game.
Mata has four pitches in his mix. First, there's a fastball with elite potential. His two-seamer is a little bit slower than the four-seamer, but the movement on it is absolutely deadly. Meanwhile, the four-seamer sits in the mid-90s and can reach 100 MPH. Showed much better control in 2019, but struggled a bit in 2022 after returning from injury. Give him time.
There's a curveball that I really love. Sitting in the high-70s, it has a great break to it that moves both horizontally and vertically. Definitely throws off timing for a lot of hitters. He doesn't always have the best feel for the pitch, but Mata definitely seems comfortable throwing it often. Every once in a while he leaves it a little flat, but for the most part pretty devastating. He can paint with it as well.
Next is a slider in the high-80s. This is probably his most inconsistent pitch. At times it has a break to it. Really cuts with a sharp vertical, and can happen pretty late. That leaves hitters flailing. But the pitch loses some break and gets left flat, which can get him in trouble. Potential to be absolute filth if he can find more consistency though.
Finally, a changeup that I would kiss if I could. It looks exactly like his fastball out of his hand. I'm talking about the same arm movement and similar pitch movement. The changeup works in the mid-to-high-80s though, a significant difference from the fastball that can touch 100 MPH. It also has a wicked drop to it at times. Even when the pitch stays up more, it can still confuse some hitters just off the deceptive arm movement and slower speed. Good control as well.
Mata deserves a lot of credit. He came back in fantastic shape and clearly worked on his game while he was away. The control needs a little work, but he absolutely kept his potential as a top-level ace. And now we can clearly see that work ethic is a major plus as well. This is the type of player you love to have in your system.
Fastball: 70
Curveball: 65
Slider: 65
Changeup: 70
Control: 55
Overall: 65