Boston Red Sox top-30 prospect rankings after 2022 MiLB season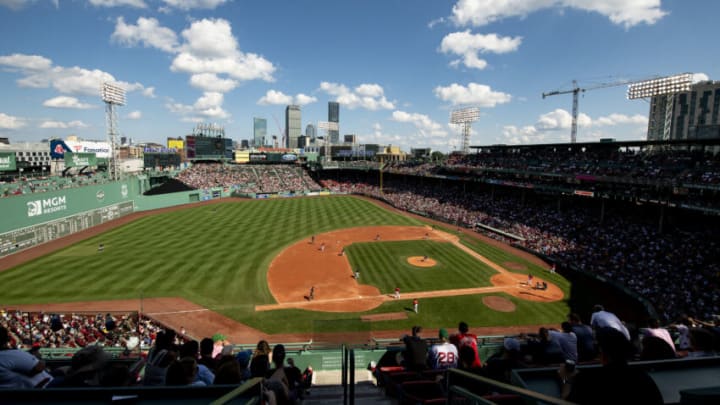 BOSTON, MA - SEPTEMBER 6: A general view during a game between the Boston Red Sox and the Tampa Bay Rays on September 6, 2021 at Fenway Park in Boston, Massachusetts. (Photo by Billie Weiss/Boston Red Sox/Getty Images) /
BOSTON, MA – JULY 28: The pitching mound is seen during first game of a doubleheader between the Boston Red Sox and the Toronto Blue Jays at Fenway Park on July 28, 2021 in Boston, Massachusetts. (Photo By Winslow Townson/Getty Images) /
No. 9: Red Sox starting pitching prospect Chris Murphy
Let's get something out of the way immediately here. Chris Murphy absolutely dog-walked hitters in Double-A before his promotion to Triple-A. However, his numbers took a hit after the promotion. There are a few things I feel need to be pointed out here.
First of all, I don't think there was a more unlucky pitcher in the system this year. The defense didn't seem to put up their best performances on Murph nights. This led to a lot of innings that should have ended earlier, yielding runs.
Second (and this is the big one), this is exactly what we went through last year. Murphy struggled while adjusting to Double-A. Clearly, he got comfortable and put up numbers at the level this year though.
So there's no reason to believe he can't do that again next year, as he'll be adjusted to Triple-A.
The left-handed starter posted a 4.03 ERA, .220 BAA, and 1.28 WHIP between the two levels this season. He struck out 149 batters compared to 72 walks in 152 innings pitched. Overall, those are great numbers.
Murph has four pitches. A fastball that works in the low-90s. He can reach back for 95-96 though. There are definitely some inconsistencies with the pitch, losing the location sometimes. It has good movement though, and when he has it working and is confident in it, will paint.
Next is a slider with a short but sharp break. It works in the low-80s and is definitely the least used of his pitches. Seems to have a decent feel for it, and can drop it in for a surprise strike. But there's a reason he uses everything else more, this is pitch four.
Then there's a curveball with a hefty sweeping break to it. Murph works this in the low-to-mid-70s and can drop it in for a strike, or bury it in the dirt to get the hitter chasing. He will lose it sometimes and leave it up. That can cause issues. For the most part, though, has a good feel for the pitch and uses it effectively.
Finally a changeup with the perfect deceptive delivery. It looks just like his fastball in both arm movement, and out of his hand. However, the pitch sits in the mid-80s and has a great late drop to it. This has been his most improved pitch over the years too, so it could still be getting better.
Murphy has a great mix of pitches, that range from the low-70s to the mid-90s and everywhere in-between. That can cause headaches for opposing hitters. He struggled with his control a bit this season, but that wasn't really an issue in the past. It could be a mix of it being harder to nibble the corners at high levels, and the lefty working on improving different pitches.
Meanwhile, he allowed seven fewer home runs (14) this season despite pitching in more innings (152) than last season (21 in 101 1/3 innings). That shouldn't be overlooked. Murph is improving, don't let the deceptive numbers fool you.
Fastball: 60
Slider: 50
Curveball: 60
Changeup: 70
Control: 60
Overall: 60