Boston Red Sox top-30 prospect rankings after 2022 MiLB season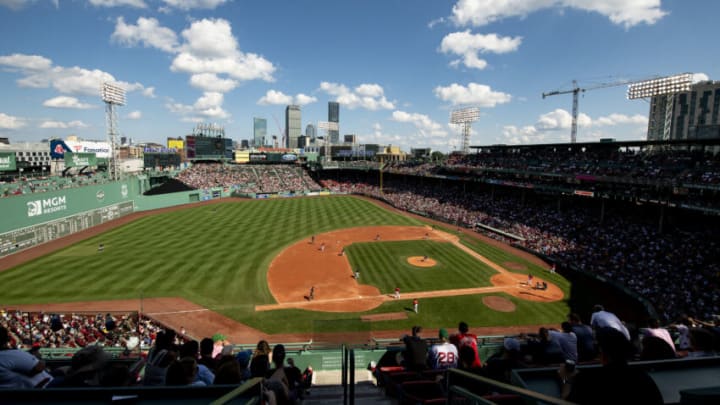 BOSTON, MA - SEPTEMBER 6: A general view during a game between the Boston Red Sox and the Tampa Bay Rays on September 6, 2021 at Fenway Park in Boston, Massachusetts. (Photo by Billie Weiss/Boston Red Sox/Getty Images) /
FORT MYERS, FLORIDA – MARCH 12: Hirokazu Sawamura #19 of the Boston Red Sox awaits to be pulled from the game after walking in a run in the fifth inning against the Tampa Bay Rays in a spring training game at JetBlue Park at Fenway South on March 12, 2021 in Fort Myers, Florida. (Photo by Mark Brown/Getty Images) /
No. 13: Red Sox starting pitching prospect Luis Perales
Luis Perales is filth personified. He only pitched 10 2/3 innings in Low-A, so it was a small sample size. What he did with it was incredible though. Even with just 198 pitches thrown at the level, you could see how disgusting his arm is.
The 19-year-old righty tossed 35 2/3 innings total on the year between Rookie Ball and Low-A. He posted a 1.77 ERA, .163 BAA, and 1.12 WHIP in that time. Perales also racked up 50 strikeouts compared to 20 walks.
The walks were a problem when he moved up to Low-A. Perales allowed 11 free passes in his 10 2/3 innings at the level. However, the main takeaway was just how advanced his pitches are. Some control problems in the lower levels of the minors shouldn't surprise anyone. Especially from someone who is literally still a teenager.
Perales has three pitches. There's a fastball that already sits in the mid-90s and he's teased 100 plenty of times. It's pretty live too. There's movement to the pitch that makes it deadlier. He tends to get a little wild with the pitch, but his command of it is still pretty solid.
Next is a curveball which is just *chef's kiss*. The break on this is pretty ridiculous, sweeping with hard spin. It's mid-to-high-70s and it's already making hitters look absolutely duped, bamboozled, smeckledorfed (that's not even a word and you have to agree with me)!
Finally, there's a changeup. Admittedly, I haven't gotten to see it much. It seemed like he was throwing the fastball and curveball a hefty majority of the time. The changeup looks decently familiar to the fastball out of his hand though, with pretty deceptive arm movement. Sits around the mid-80s with a good late drop. Could be a great third pitch as he grows.
Overall, Perales is very raw. He has some of the nastiest pitches you'll see though. So if the Red Sox are patient they could have something special on their hands.
Fastball: 70
Curveball: 70
Changeup: 50
Control: 50
Overall: 55