Boston Red Sox top-30 prospect rankings after 2022 MiLB season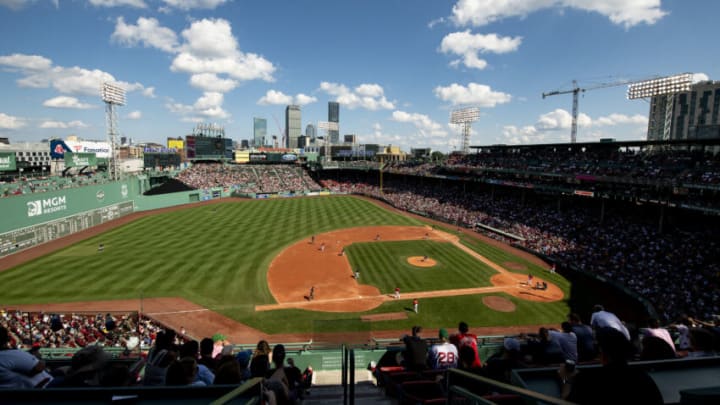 BOSTON, MA - SEPTEMBER 6: A general view during a game between the Boston Red Sox and the Tampa Bay Rays on September 6, 2021 at Fenway Park in Boston, Massachusetts. (Photo by Billie Weiss/Boston Red Sox/Getty Images) /
BOSTON, MA – JULY 24: An empty Fenway Park ahead of the start of the Baltimore Orioles against the Boston Red Sox on Opening Day at Fenway Park on July 24, 2020 in Boston, Massachusetts. The 2020 season had been postponed since March due to the COVID-19 pandemic. (Photo by Kathryn Riley/Getty Images) /
No. 16: Red Sox starting pitching prospect Elmer Rodriguez-Cruz
Elmer Rodriguez-Cruz is one of the exciting young pitchers we got to see in Low-A for a cup of coffee at the end of the season (we'll talk about another in a bit). The 19-year-old right-hander has already done a lot to impress.
In six innings in Low-A, he allowed just one run on three hits and three walks, while striking out six bats. Overall, Rodriguez-Cruz posted a 1.88 ERA, .214 BAA, and 1.20 WHIP between Rookie Ball and Low-A. He dropped in 42 strikeouts compared to 15 walks in 38 1/3 innings.
Rodriguez-Cruz has a mix of four pitches. A fastball that he was working in the low-to-mid-90s is his first pitch. He doesn't have the best control over the pitch yet, but it's a work-in-progress. That much is evident by the velocity, as he's already added a few MPH to his fastball compared to where it was when he was drafted in 2021 (fourth-round).
Next is a curveball, which definitely fights for his best pitch. Mid-to-high-70s with a really long and sweeping break to it. He has surprisingly good command on this pitch, and seems to already be pretty comfortable with it. Will definitely buckle some knees and get some ugly swings.
A slider is next. This is mid-80s and has a much more horizontal break than the curveball. Not nearly as long either. However, could be a good fourth pitch that he breaks out on occasion to keep the hitter on their toes.
Finally, a changeup which is also in contention for his best pitch at the moment. Extremely deceptive, it looks eerily similar to his fastball out of his hand. The delivery is a little different, but if the hitter doesn't catch it, they'll probably end up looking stupid on the swing. Low-80s with a quick and severe drop at the end. This will disappear on people, and he already has solid command on it.
Fastball: 50
Curveball: 60
Slider: 50
Changeup: 60
Control: 55
Overall: 55