Boston Red Sox top-30 prospect rankings after 2022 MiLB season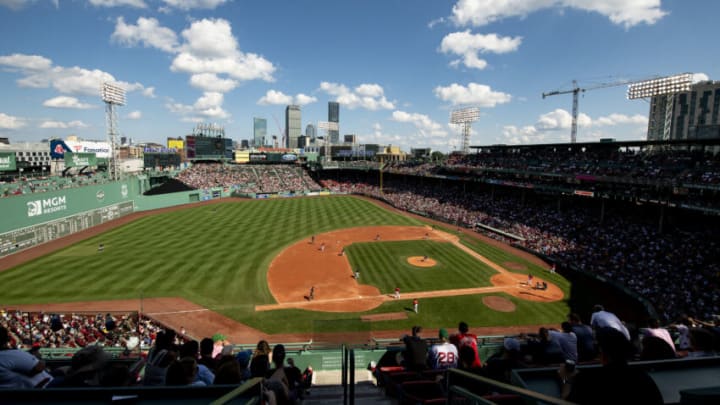 BOSTON, MA - SEPTEMBER 6: A general view during a game between the Boston Red Sox and the Tampa Bay Rays on September 6, 2021 at Fenway Park in Boston, Massachusetts. (Photo by Billie Weiss/Boston Red Sox/Getty Images) /
CHAPEL HILL, NC – MARCH 08: Niko Kavadas #12 of the University of Notre Dame waits for a pitch during a game between Notre Dame and North Carolina at Boshamer Stadium on March 08, 2020 in Chapel Hill, North Carolina. (Photo by Andy Mead/ISI Photos/Getty Images) /
No. 19: Red Sox first base prospect Niko Kavadas
Niko Kavadas is a great prospect for this list because I think he perfectly highlights the whole "you have to weigh some tools different from others in certain cases" point I made earlier.
Kavadas is a classic power-hitting first baseman. He's going to tear the cover off baseballs and get on base. Don't expect to see any types of speed out of him though.
What a year 2022 was for Kavadas. The left-handed hitter slashed .280/.443/.547 between Low-A, High-A, and Double-A. Getting two promotions in one year should tell you just how impressive he was. The Notre Dame product smoked 25 doubles, one triple, and 26 home runs. He drove in 86 runs, scored 71 more, and stole one base.
Kavadas also drew 102 walks. This was a combination of incredible plate discipline and a strong eye, and pitchers being terrified of him.
The bat will play. He's going to get on base at a high level, and he has 30-plus home run potential. This will lead to a ton of runs batted in. His hit and power tools are off the charts if we're being honest. Those are the two things that make Kavadas so intriguing.
However, the rest isn't spectacular. Kavadas isn't going to win any races (except maybe against Big Joe Davis). Not disastrously slow but he's not "not slow". However, do you really need speed as a first baseman with a monster bat?
Defensively, Kavadas isn't taking home any awards. He's not miserable here, but he lends himself more to a DH role. Maybe he could fill in at first base every once in a while when someone needs a day off though. Decent enough glove, he'll make the plays he needs to make. Don't expect many highlights though, with limited range. His arm isn't great, but that's not an issue at first base anyway.
Niko Kavadas has top-tier offensive potential. You can't help but be impressed when watching him at the plate. There's so much danger in his bat, but he's patient and waits for the right pitch. Rarely do you see him with any panic at the plate. He'll gladly take two strikes if they aren't what he's looking for. Then he'll fight until he gets that one pitch. High average, off-the-charts OBP, and tons of power.
Everything else, well they're there too. Who cares though? Look how far he just hit that ball.
Hit: 75
Power: 75
Run: 30
Arm: 40
Field: 40
Overall: 55