Aaron Judge's Red Sox comments will get fans' attention for free agency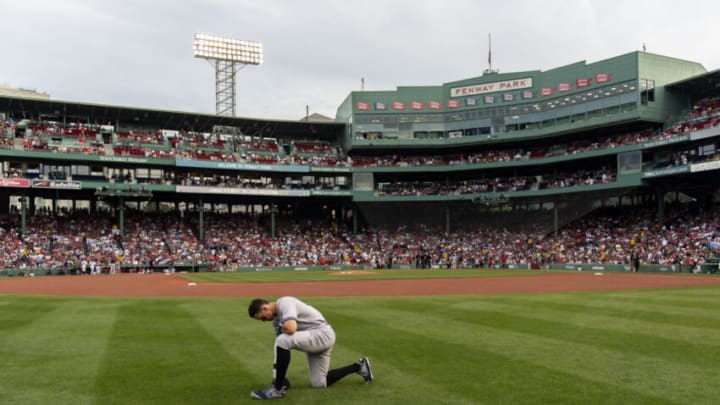 BOSTON, MA - JULY 8: Aaron Judge #99 of the New York Yankees pauses before a game against the Boston Red Sox on July 8, 2022 at Fenway Park in Boston, Massachusetts. (Photo by Billie Weiss/Boston Red Sox/Getty Images) /
The biggest roster shakeups in the storied Boston Red Sox/New York Yankees rivalry usually entail a star from the former ending up on the latter.
Babe Ruth, Luis Tiant, Wade Boggs, Johnny Damon, Jacoby Ellsbury, and Andrew Benintendi are among the many players who wore red before they wore pinstripes.
But as the season wraps up, all eyes are on Yankees star Aaron Judge and the rumor that the Sox will target him if he reaches free agency this winter. So of course, when the Yankees came to Fenway for a quick two-game series this week, he got asked about a potential defection from the Evil Empire.
His answer and facial expressions were interesting, to say the least:
Of course, Judge wouldn't say outright that he's amenable to signing with the Sox, but he didn't rule it out or definitively shut down the possibility, either.
Is Aaron Judge really interested in signing with the Red Sox?
Appearing open to any opportunity is part of the song-and-dance of free agency, and Judge is clearly navigating that carefully. His comments and demeanor could have been a ploy to create more urgency in the Yankees front office; it could also be genuine interest in the Sox.
Judge currently leads MLB in runs scored (117), home runs (57), RBI (123), on-base (.413) and slugging (.688) percentages, OPS (1.102), OPS+ (208), and total bases (353), and leads the American League in walks (89). It's essentially down to him and Shohei Ohtani for MVP, but whether he wins it or not, he stands to get a huge contract this offseason.
The Sox might pursue Judge, but he can't be their priority over crucial roster decisions. And there are plenty of reasons not to pursue him at all, including his age, injury history, and numbers at Fenway.
Still, it's very interesting to know that he's interested.