Boston Red Sox Prospect Watch 9/12/22: Final week of 2022 season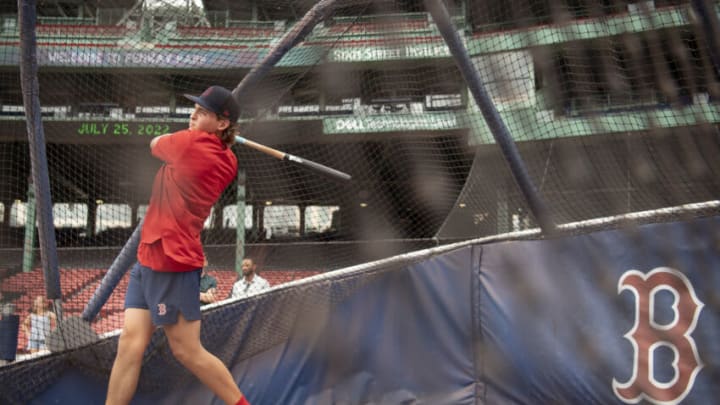 BOSTON, MA - JULY 25 :Boston Red Sox first-round draft pick Mikey Romero takes batting practice after signing a contract with the club on July 25, 2022 at Fenway Park in Boston, Massachusetts. (Photo by Maddie Malhotra/Boston Red Sox/Getty Images) /
BOSTON, MA – JULY 25: Boston Red Sox second-round draft pick Roman Anthony takes batting practice after signing a contract with the club on July 25, 2022 at Fenway Park in Boston, Massachusetts. (Photo by Maddie Malhotra/Boston Red Sox/Getty Images) /
Red Sox Low-A (Salem)
Mikey Romero wasted no time making a fantastic first impression in the Red Sox system. The left-handed hitting shortstop slashed .349/.364/.581 with four doubles and three triples. He drove in 11 runs, scored six more, and stole one base. Romero looked comfortable at the level and is even learning second base.
Brainer Bonaci was one of the more impressive prospects this season in my opinion. The switch-hitting shortstop is an elite defender, and he proved he can be an offensive talent as well. Bones posted a .262/.397/.385 slash line with 19 doubles, six triples, and six home runs. He drove in 50 runs, scored 86 more, and stole 28 bases. Crazy stat of the day, he finished with as many walks (89) as he had strikeouts (89) this season.
Eddinson Paulino is right up there with Bones when it comes to being one of the most impressive prospects in the Red Sox system in 2022. The left-handed hitting utility-man slashed .266/.359/.469 with 35 doubles, 10 triples, and 13 home runs. He drove in 66 runs, scored 96 more, and stole 27 bases.
Chase Meidroth didn't take long to start dominating Low-A after being drafted this year. The right-handed hitting second baseman slashed .309/.424/.559 with five doubles and four home runs at the level. He drove in 12 runs, scored 15 more, and stole four bases. It was a small sample size, but everything was impressive. Meidroth even walked more times (12) than he struck out (9).
Roman Anthony crushed Rookie Ball, but he struggled a bit in his very short stint in Low-A to finish the season. It's nothing to worry about though, a 10-game (37 at-bats) sample is nothing. The left-handed hitting outfielder slashed .189/.279/.243 with two doubles at the level. He drove in five runs and scored two more. Anthony also walked more times (5) than he struck out (4).
Luis Ravelo was extremely impressive in his late-season call-up. The 18-year-old switch-hitting shortstop slashed .240/.321/.400 with one double and one home run in seven games in Low-A. He drove in six runs and scored four more. Ravelo showed good potential at the plate and made a couple of great plays in the field.
Yorberto Mejicano spent most of the first half of the year as a backup, not seeing the field all that much. After Nathan Hickey's promotion, playing time opened up for Meji. He took advantage of it. The right-handed hitting catcher/first baseman slashed .262/.325/.373 with 11 doubles, one triple, and five home runs. He drove in 37 runs, scored 38 more, and stole seven bases.
Luis Perales was able to make a couple of appearances at Low-A before the year ended, and boy is he fun to watch. The 19-year-old right-handed pitcher has some electric stuff, including a devastating curveball. He posted a 3.38 ERA, .250 BAA, and 1.97 WHIP at the level. In 10 2/3 innings, he did walk 11 batters but struck out 16. The walks aren't very concerning, remember he was only 19.
Elmer Rodriguez-Cruz was in the same boat as Perales, getting a few appearances in Low-A right at the buzzer. The 19-year-old right-handed pitcher posted a 1.50 ERA, .143 BAA, and 1.00 WHIP at the level. He struck out six batters compared to three walks over six innings. Rodriguez-Cruz has a curveball and changeup with the potential to both be killer secondary pitches.