Red Sox will have to live up to CEO's bold claim this offseason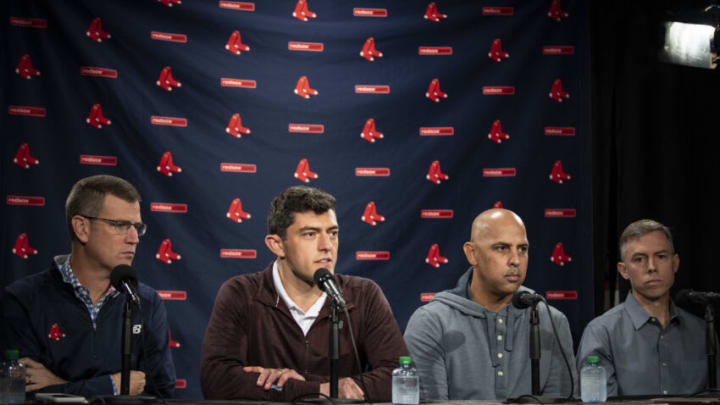 BOSTON, MA - OCTOBER 25: President & CEO Sam Kennedy, Chief Baseball Officer Chaim Bloom, Manager Alex Cora, and General Manager Brian OHalloran of the Boston Red Sox address the media during an end of season press conference on October 25, 2021 at Fenway Park in Boston, Massachusetts. (Photo by Billie Weiss/Boston Red Sox/Getty Images) /
Chaim Bloom and Alex Cora will return to Red Sox in 2023
Boston Red Sox CEO Sam Kennedy dropped the least-surprising update on Monday, when he confirmed to The Athletic (subscription required) that Chaim Bloom and Alex Cora will both return in 2023.
Despite the team's frustrating struggles this season, it's not really breaking news. Coaxing success out of this roster is like getting blood from a stone; Cora can't work miracles. As for Bloom, it's still too soon to tell, given that his almost-three seasons at the helm included a pandemic, a cheating scandal, and a 99-day lockout.
Kennedy's comments immediately went viral online, because they were the usual PR subterfuge:
""I am very comfortable saying there is a strong belief in the direction of the franchise from our ownership group. That direction is continuing to build for the future, but also continuing to invest at the major-league level.""
The former half of that statement is true. The latter has yet to be proven since they fired Dave Dombrowski.
If Kennedy wants fans to seriously believe that the Sox are invested at the big-league level, they'll stop saying they want to retain Rafael Devers and Xander Bogaerts and actually get it done. And then they'll go out and get some real starting pitching. It can't just be these low-cost, short-term guys with 'upside,' one of Bloom's favorite terms. With Nathan Eovaldi becoming a free agent this winter and Chris Sale more unreliable than the MBTA, the Sox need a new marquee arm.
As Kennedy noted, this season is a hard fall after unexpectedly reaching the ALCS last season. Fans are used to the pendulum swinging from worst to first and back again over the last two decades. Wasn't that the point of replacing Dombrowski with Bloom, to cultivate a culture of consistent contention? Say that five times fast.
That's why it's hard to believe Kennedy when he says that the front office genuinely thought this roster was better or even equal to last year's:
""We're all incredibly disappointed in how the season has unfolded. It's certainly not where we thought we would be when we came into camp. We had a magical 2021 year where we were two games from the World Series. We went out and added to what was an incredibly talented group with Trevor Story. We were very optimistic about our chances and where we were headed and incredibly excited that our baseball operations group had just done a fantastic job of building for the future at the same time.""
In 2016 and 2017, the Red Sox won the division and then lost in the ALDS. Each time, Dombrowski recognized the roster holes and spent the offseason filling them. When David Price wasn't enough, he added Chris Sale. They needed a closer, he got Craig Kimbrel. When David Ortiz retired and the lineup couldn't compensate for his enormous absence, Dombrowski signed JD Martinez. By 2018, they were World Series champions, and his signings were crucial to the achievement.
Meanwhile, when the 2021 Red Sox went to the ALCS after being projected to win 79 games, Bloom let two of their biggest bats go.
It's a bit absurd for Kennedy to claim that the Sox did more adding than subtracting last offseason. They traded Hunter Renfroe to bring back Jackie Bradley Jr. and two prospects. Bloom did next-to-nothing to replace Renfroe and Schwarber's power in the lineup, and instead of finding common ground with Bogaerts, who's helped them win two rings, the Sox gave a lucrative contract to Story, who came from the most hitter-friendly ballpark in the league and has no postseason experience. If it leads to them losing/giving up Bogaerts, it'll be hard for fans to consider Story an addition. And of course, they took the cheap, short-term route with pitching, and the numbers speak for themselves.
Altogether, the roster construction this season was just a slightly pricier version of what Bloom was forced to do in Tampa Bay due to payroll restrictions. It also doesn't make sense to opt for quantity over quality if you're going to exceed the luxury tax either way.
Kennedy circled back to his investment claims at the end of his comments:
""I see us continuing to invest across the entire organization, at the major-league level, throughout our baseball operations. This group is hungry for another World Series championship.""
If this front office is truly hungry for another trophy, may I recommend actually retaining the players who've won them before instead of casting them aside for unproven free agents? Bogaerts has two rings, Devers has one, and the Sox have more than enough money to pay them to keep winning them.
The Sox have plenty of money to spend this offseason and plenty of room on the roster when their many free agents depart. Including Bogaerts (who can opt out), they currently have less than $100M in guaranteed salaries on the 2023 payroll, so they can build a better team and reset the tax. But they have to combine the best of Tampa and the best of Boston. They didn't do that this year, and the results should scare them enough to never repeat this again.