Xander Bogaerts, Alex Cora ejected from Red Sox vs. Orioles after outrageous umpiring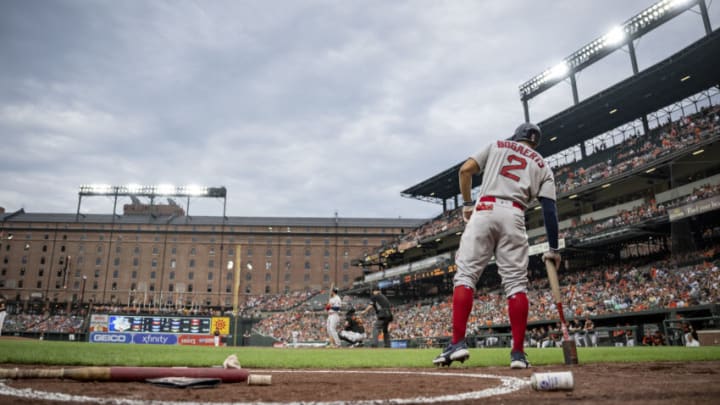 BALTIMORE, MD - AUGUST 19: Xander Bogaerts #2 of the Boston Red Sox stands in the on-deck circle during the first inning of a game against the Baltimore Orioles on August 19, 2022 at Oriole Park at Camden Yards in Baltimore, Maryland. (Photo by Maddie Malhotra/Boston Red Sox/Getty Images) /
On Friday night, fans watching the Boston Red Sox take on the Baltimore Orioles witnessed an event as rare as Hailey's Comet:
Xander Bogaerts getting ejected.
In the top of the fourth, Bogaerts received an absurd strike-three call. Visibily upset, he slammed his bat down, and got ejected before manager Alex Cora could even get to the plate to protect him. Cora proceeded to shout and swear, leading to an ejection of his own.
Here's the missed call:
Xander Bogaerts, Alex Cora ejected from Red Sox-Orioles game
Bogaerts is known for keeping his cool, so much so that in his decade-long career, this is only his second ejection.
Tensions are clearly high in the Sox clubhouse. On Thursday night, JD Martinez got brutally honest about their offensive struggles after their series finale loss to the Pittsburgh Pirates. Now, Cora has four ejections on the season, double his total in any of his previous years at the helm.
Sox players are right to be frustrated with themselves and their current situation, especially Bogaerts, who continues to show up for a team that won't make him the kind of contract offer he deserves.
And while the last thing the Sox need is to lose Bogaerts for more than half a game, the bigger issue is that umpires can make bad calls with no repercussions.