Red Sox fans turn against Jarren Duran after concerning meltdown vs Royals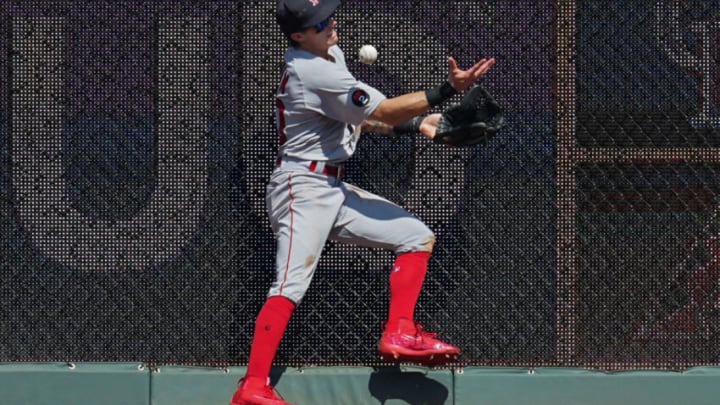 Aug 7, 2022; Kansas City, Missouri, USA; Boston Red Sox center fielder Jarren Duran (40) is unable to make the catch at the wall during the eighth inning against the Kansas City Royals at Kauffman Stadium. Mandatory Credit: Jay Biggerstaff-USA TODAY Sports /
Red Sox fans are unhappy with Jarren Duran, who made several misplays during the Royals series and argued with fans during Sunday's game
After losing three of four games to the Kansas City Royals for the first time in 16 years, several Boston Red Sox figures are on the hot seat.
In particular, outfielder Jarren Duran, manager Alex Cora, and the president of baseball operations, Chaim Bloom.
During the seventh inning of Sunday's series finale, Duran infuriated fans with several defensive miscues. Then, after making a nice diving catch, he started getting into it with fans and had to be led away from the stands by Alex Verdugo.
The incident lit up Twitter. One fan said they'd rather watch Ben Affleck's worst film, Gigli, than continue enduring Duran in the outfield. Chad Finn of the Boston Globe aptly noted,
""I'd rather watch Jackie Bradley Jr. hit than Jarren Duran play defense.""
Duran is seeing more playing time now that the Sox have released Jackie Bradley Jr., and fans are understandably outraged. While Bradley was a subpar, inconsistent hitter, he's one of the best defensive outfielders in franchise history. Duran has also been a subpar, inconsistent hitter himself and doesn't have the Gold Glove-caliber play to compensate for his offensive shortcomings. He came into Sunday's game with -5 Defensive Runs Saved and 0 Outs Above Average; Bradley had +5 DRS and +3 OAA. Dating back to July 1, Bradley was actually hitting significantly better than Duran, too.
While several reporters noted that Duran faced the music postgame, taking every question and acknowledging his shortcomings, that's a small step towards turning things around, at most. This all comes after he gave snarky responses to the media after dropping a ball "in twilight" that turned into an inside-the-park grand slam as part of the franchise-worst 28-run shelling by the Toronto Blue Jays on July 23.
Poor play is bad enough, but a bad attitude will ruin you in Boston. Sox fans are deeply invested in their team, and if you play with effort and show them even an iota of love, they will give you their hearts; just look at David Ortiz and Pedro Martinez, who will never pay for a drink in this town for the rest of their lives. In 2013, Ortiz came in third in the city's mayoral election as a write-in candidate.
Duran was visibly upset after the game, but that won't be enough to assuage fans' concerns and dissatisfaction:
Cora also drew fans' ire during the appalling loss, as he was seen comforting Duran in the dugout. He also made the expected show of support for his maligned CF in his postgame comments:
""He's our center fielder right now. We trust him. This is a kid that's part of what we're trying to accomplish and we're going to keep rolling with him.""
Countless fans tweeted that Duran needs tough love and a demotion to Triple-A, rather than a Full House-esque heartfelt moment, but what could they realistically expect him to say? That Duran sucks? That he wishes JBJ was still with the team? Publicly, he's going to support his players and give canned responses. It's what he did when they struggled in 2019, too, and he said 'We need to play better' over and over. It's likely very different inside the clubhouse.
Then there's Bloom, who's been raked over the coals all year for his roster construction and the lack of extensions for Xander Bogaerts and Rafael Devers, among other complaints. His Bradley-Hunter Renfroe trade was already a risk (and a quintessentially-Rays prospect grab), but now that Bradley has been released and Duran is playing so poorly, it's an utter disaster. The two prospects acquired in the trade may change how the deal looks in the future, but for now, the domino effect is nothing short of a season-altering failure.
While this situation can be chalked up to growing pains for a barely-past-rookie-status outfielder, it's also largely due to some poor decision-making by the front office. The Sox are on the hook for the remainder of Bradley's salary regardless, which calls into question the decision to go with Duran, instead. If it truly came down to needing a roster spot, they could have demoted Duran to Triple-A. He or Bradley could've been placed on the Injured List with some phantom injury. Instead, the Sox are stuck with Duran until Kiké Hernández returns from injury.
Clearly, the remainder of the season is a trial run for Duran in the long term, which contradicts Bloom's comments about the Sox being a postseason team (ha!). If the Sox were serious about contending, it would be Bradley manning the grass, not Duran.
Behind the scenes, no one should be happy with what just went down in Kansas City. The problem is, there's not much anyone can do about it now.
Update: Jarren Duran says fans threw bottlecaps at him during game
After getting criticized for chirping back at fans in the stands during Sunday's debacle, Duran shared his side of the situation. According to the outfielder, fans were throwing bottlecaps at him from the stands.
It's unclear if Kauffman Stadium has the same policy that Fenway does about opening beer bottles for fans and keeping the bottlecaps (Sox and Yankees fans have a long history of pelting one another's teams with garbage).
While it's fair to be upset with Duran for his poor play, it's unacceptable to throw objects on the field. It could harm the players, and it's just a terrible look.