Boston Red Sox Prospects: Ceddanne Rafaela enters the top-100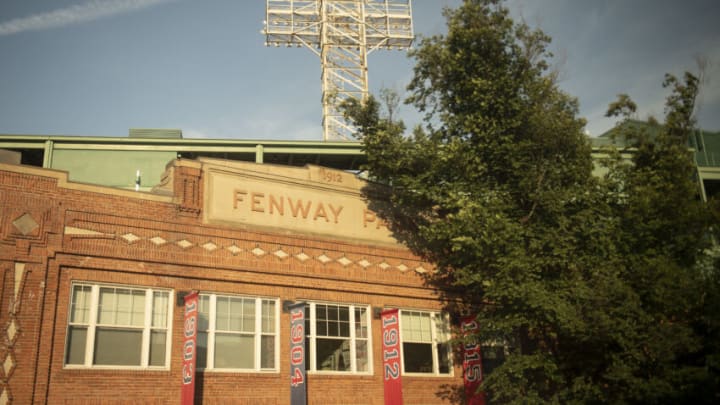 BOSTON, MA - MAY 30: A general view of Fenway Park before a game between the Baltimore Orioles and the Boston Red Sox on May 30, 2022 in Boston, Massachusetts. (Photo by Maddie Malhotra/Boston Red Sox/Getty Images) /
Red Sox prospect Ceddanne Rafaela cracks Baseball America's list
I guess I need to come up with a new line. Good thing in this week's Boston Red Sox Prospect Watch I hit everyone with the "Ceddanne Chipper Nicasio Marte Rafaela is your favorite baseball player's favorite baseball player" line. Because I can't keep shouting "there aren't 100 prospects better than him" anymore.
I mean, I can. But there's really no need to. Baseball America now has Boston Red Sox prospect Ceddanne Rafaela listed inside their top-100 prospects. In fact, it's not even like he barely cracked the list. They've already got him at number 84.
This is ridiculously deserved. Rafaela was absolutely breezing through High-A to start the season before getting promoted to Double-A and he hasn't slowed down. The right-handed hitter is slashing .314/.354/.587 (all career-highs) with 23 doubles (career-high), seven triples, and 16 home runs (career-high). He's driven in 55 runs (career-high), scored 58 more, and stolen 19 bases.
Do you see a pattern there? Nearly everything is a career-high and anything that isn't certainly has a chance to get there before the end of the year. It's not just offense either. Rafaela plays a lot of positions at a very high level. He's a top-tier glove at shortstop, second base, and third. Meanwhile, he's the elite of the elite in the outfielder.
It feels like every single game Rafaela's making at least one play that makes your head spin. In the last two weeks, he's robbed multiple home runs. And he's thrown in some diving plays for good measure.
At the end of last season, I had Rafaela at 10 in the my Red Sox prospect rankings. I've already said I was a coward and wanted to put him higher. But at the time he wasn't even in MLB's top-30 for Boston. So I was a little hesitant to put him ahead of a few names.
Still, Rafaela popped out at me. He had clearly gotten his bat going at the end of the year. The second-half of his 2021 season in Low-A featured him getting on-base at a higher clip, and he started to show some real power. That, mixed with his elite defense and speed, did more than enough to make a believer out of me.
Now Rafaela's taken his show global. He was too good to ignore in High-A. Now in Double-A, he's at a high enough level that it's hard for anyone to miss out on his talent when he makes a spectacular play or shows off that pretty swing as the 5'8″, 152 pounder launches one 400-plus feet – an absolute missile off his bat.
This is Baseball America's rankings. But you have to assume MLB won't be far behind when they adjust their rankings officially again (not counting removing one player from the top-100 because they've graduated from prospect status).
As for me, top-5 on the Red Sox? Yes. Top-3 on the Red Sox? Yes. Top-50 in baseball? Fight me, yes. There are not 100 prospects in baseball better than Ceddanne Chipper Nicasio Marte Rafaela, I now have a pretty major backing on that argument. Your favorite baseball player's favorite baseball player is here to stay.