Boston Red Sox Prospects: Ceddanne Rafaela selected to All-Star Futures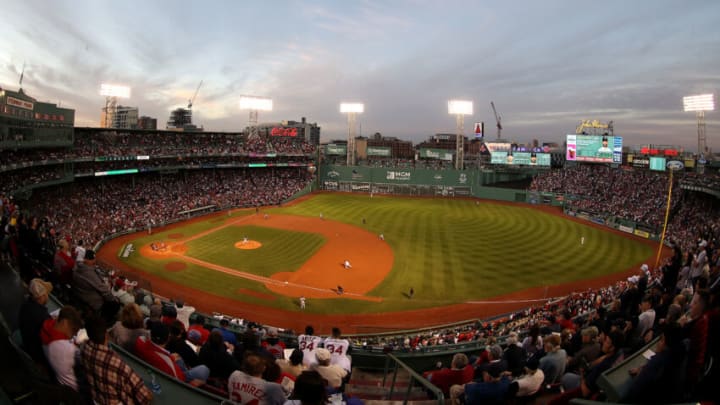 BOSTON, MASSACHUSETTS - OCTOBER 20: A general view of the Boston Red Sox playing against the Houston Astros in the third inning 2of Game Five of the American League Championship Series at Fenway Park on October 20, 2021 in Boston, Massachusetts. (Photo by Omar Rawlings/Getty Images) /
Ceddanne Rafaela representing Red Sox in All-Star Futures game
The first eight participants for the 2022 All-Star Futures game have been announced, according to Brian Murphy of MLB.com. Among them is Boston Red Sox prospect Ceddanne Rafaela.
This should really come as no surprise to anyone who has followed the Red Sox minor leagues this season. Rafaela spent the first two months of the season absolutely terrorizing High-A pitching. Then he made the leap to Double-A and really just kept mashing.
Overall on the season, Rafaela is slashing .314/.357/.589 with 22 doubles, six triples, and 15 home runs. The right-handed hitter has driven in 54 runs, scored 51 more, and stolen 17 bases.
It's kind of scary how much he can do offensively. The doubles, home runs, and RBI are already career-highs. Realistically, he probably will set new marks in batting average, OBP, and slugging percentage. Steals is a very very realistic possibility and runs scored and triples are 100% within reach.
Rafaela has a deadly combination of power and speed. He can be compared to the likes of Mookie Betts and Jose Altuve in that sense. He has much more pop in the bat than you would expect from someone his size (5'8″, 152 lbs), and can swipe plenty of bags.
Rafaela is a little different than both of them for one reason though. Yes, he is absolutely a Gold Glove defender (he'll win a couple by the end of his career, the defense is already elite). That fits the mold of those two players. What separates Rafaela though, is his ability to give you Gold Glove defense at all three outfield spots, shortstop, second base, and third base. It seems like they're trying to keep him to just the outfield and shortstop. But the defense has absolutely been able to shine at the other positions when he's been given the chance there.
To some people not following the minor leagues (especially fans of other teams), they might be surprised to see Rafaela in this game. The article MLB posted even shows that he is the team's 27th overall prospect.
With that in mind, let me remind everyone of my hot take. There are not 100 prospects better than Ceddanne Chipper Nicasio Marte Rafaela in the world. The rankings might not show that right now, but when they are updated at the end of the season, it would be a crime if he's not close to the Red Sox top-five and at least near the MLB-100.
Personally, he's already broken past those barriers for me. And clearly he's starting to get some of the love he deserves. This All-Star future game nod is just the beginning for the Boston Red Sox prospect. It's going to be a fun ride for Ceddanne Rafaela, so buckle up.