Former Red Sox pitchers doing the MLB roster shuffle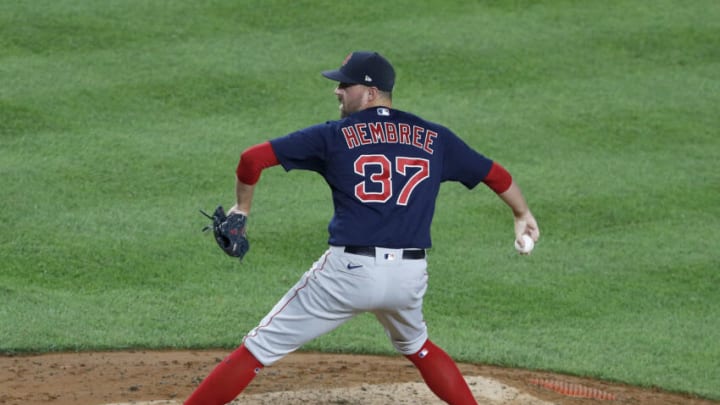 NEW YORK, NEW YORK - AUGUST 02: (NEW YORK DAILIES OUT) Heath Hembree #37 of the Boston Red Sox in action against the New York Yankees at Yankee Stadium on August 02, 2020 in New York City. The Yankees defeated the Red Sox 9-7. (Photo by Jim McIsaac/Getty Images) /
Red Sox alumni on the move in MLB
I have been a tad negligent in addressing the career changes of former members of the Boston Red Sox. In this edition, the focus will be on pitchers who are fully engaged in the roster shuffle. All have a connection to the Red Sox, albeit briefly for some, but as a Boston fan, I follow the careers of the departed as best I can.
Lefty Roenis Elias came to the Red Sox via a trade with Seattle just in time to get torched in his brief 2016 stay. Elias appeared in just one game the following season before being traded back to the M's. The Boston line defined pitching ugly as Elias went 0-1, 12.38 ERA.
Elias has had a checkered career, including Tommy John surgery while with Washington. Elias is in the long process of working back from TJ but will now have to do it at Tacoma as he has accepted the minor league assignment and not free agency.
In 2019, the Red Sox appeared to have a steal in righty Marcus Walden. He pitched to a 3.81 ERA/3.69 FIP on his way to a 9-2 record. Walden had bounced around organizations for ten years before making it to "The Show." Then it evaporated.
In the COVID-shortened 2020 season, Walden posted a disheartening 0-2 record with 9.35 ERA, and eventually was released. Walden returned to the minors in 2021 for the Red Sox affiliate in Worcester (AAA) before being released and signing with the Cubs.
This season, Walden – now 33 years old – signed on with the Gastonia Honey Hunters of the Atlantic League. He showed enough to earn a shot with the Brewers, who signed Walden to a minor league deal. For baseball perseverance, Walden gets an A+.
Boston selected right-hander Chris Mazza off waivers from the New York Mets in 2019. He made six starts in the 2020 season (1-2, 4.80) and eventually was traded to the Rays. Mazza's ERA (11.80) ballooned like Pablo Sandoval's weight with TB this season, earning him a choice of free agency or demotion. Mazza chose free agency.
Another former Red Sox righty has also chosen to become a free agent rather than accept a minor league assignment. Ryan Weber was a Yankee, representing just another stop in the 31-year-old Weber's baseball tour.
Weber became a free agent acquisition for the Red Sox and pitched for two seasons (2019-2020) and part of a third in 2021 before being nabbed off waivers by the Brewers. Weber posted a 5.91 ERA over an 89.1 innings span with Boston. I do remember Weber being called up in 2021 and getting mauled in a game.
Who would you take for a game? Heath Hembree or Nick Pivetta? Hembree was part of the deal that brought Pivetta to Boston from Philadelphia, but since that trade, it has been troubling for righty Hembree. The latest is a DFA from the Pirates.
Hembree spent seven seasons with the Red Sox (15-5, 3.70), appearing in 251 games out of the bullpen. Hembree was part of the 2018 championship team going spotless in the playoffs. Maybe worth a look for Boston on a minor league deal?