Red Sox starter Nathan Eovaldi reveals the reason for dip in velocity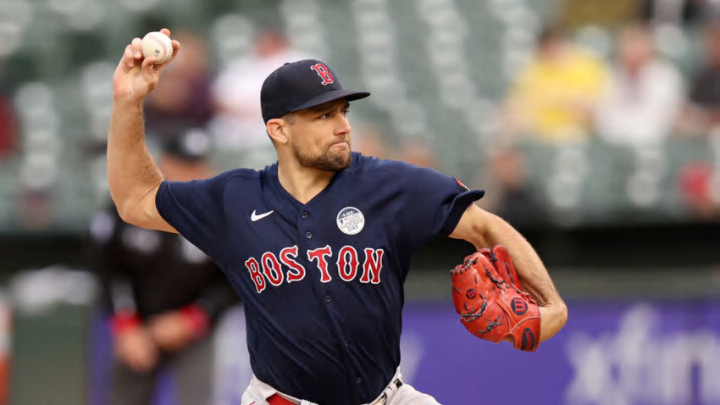 OAKLAND, CALIFORNIA - JUNE 03: Nathan Eovaldi #17 of the Boston Red Sox pitches against the Oakland Athletics in the first inning at RingCentral Coliseum on June 03, 2022 in Oakland, California. (Photo by Ezra Shaw/Getty Images) /
Red Sox starter Nathan Eovaldi's fastball was a bit slower than usual
Something didn't seem right with Nathan Eovaldi during Wednesday's game against the Los Angeles Angels. You wouldn't know it from the box score considering he delivered five scoreless innings in an eventual 1-0 victory for the Boston Red Sox but it appeared to be a grind for Eovaldi to get through those five innings.
The right-hander didn't have his usual heat on his fastball. While he maxed out at 97.1 mph with his four-seam fastball, Eovaldi averaged only 94 mph with the pitch, per Baseball Savant. That's a decline of 2.5 mph from his season average and his slowest average fastball velocity in a start since 2012. His velocity was down on all five of his pitches, including a decline of at least 2 mph on his splitter and curve.
The Red Sox sent their trainer out to check on Eovalid while he was warming up for the fifth inning. He remained in the game, retiring three of the four batters he faced and capping the inning with his fifth strikeout of the game. That would be the end of the night for Eovaldi though, despite throwing only 84 pitches on his way toward a potential shutout.
During NESN's postgame coverage, Eovaldi revealed that he was dealing with a tight right hip, which worsened throughout the game and was responsible for the decline in his velocity.
""It was a little tight yesterday (Tuesday)," Eovaldi told reporters. "But we did all the treatment, we did the work, I played catch. I did my normal routine and felt fine and then even today, it was kind of just the beginning of the game it felt tight and as the game went on it got tighter.""
Eovaldi battled through the ailment to give his team five strong innings. The bullpen carried Boston the rest of the way with four relievers combining to protect a 1-0 lead over the final four frames.
Eovaldi typically throws his four-seam fastball over 40 percent of the time but his usage with the pitch was down slightly in this start. 32 of his 84 pitches were four-seam fastballs (38 percent). He owns an 18.2 Whiff% with his fastball this season but generated only one swing-and-miss with the pitch against the Angels.
His fastball wasn't in top form but Eovaldi managed to navigate the Angels lineup by changing speeds and relying more on his offspeed pitches. He generated whiffs on seven splitters, three curves and three sliders.
The dominant velocity wasn't there but Eovaldi's command was on point. He didn't issue a walk for the fourth time this season. Eovaldi has only allowed multiple walks in a game once this season and his 3.6 BB% places him in the top-five percent of the league.
The hip tightness isn't expected to cost Eovaldi his next start but the Red Sox will need to monitor him in the meantime to ensure his condition doesn't get worse. Even if he's deemed ready to take the mound to open a homestand against the Oakland A's next week, his declining velocity could remain a concern. Eovaldi was able to gut it out against a depleted Angels lineup that is unraveling during a 14-game losing streak but the schedule gets more challenging later this month leading into a brutal pre-All-Star break stretch with 14 consecutive games against the Rays and Yankees.
Boston needs their ace in top form against those division rivals so hopefully this hip injury isn't one that lingers.