Red Sox must name a closer to bring structure to their bullpen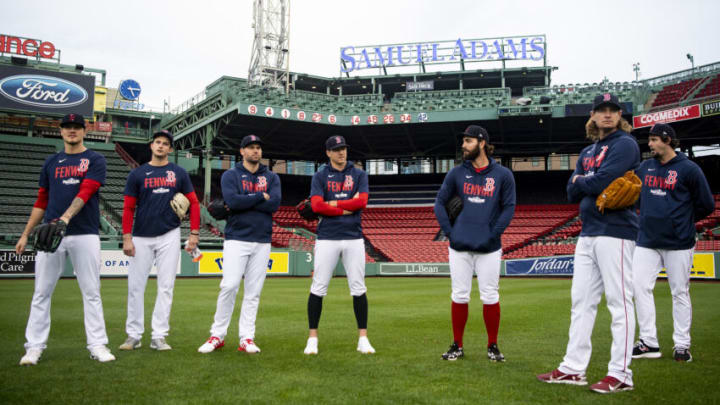 BOSTON, MA - OCTOBER 05: Members of the Boston Red Sox bullpen look on before the 2021 American League Wild Card game between the Boston Red Sox and the New York Yankees at Fenway Park on October 5, 2021 in Boston, Massachusetts. (Photo by Billie Weiss/Boston Red Sox/Getty Images) /
It is time for the Boston Red Sox to name a closer
The Boston Red Sox have been one of the most disappointing teams in the league. Their offense has been quiet for the majority of the season and their pitching has been a bit hit and miss lately. One thing that needs to be brought into the light and dealt with is that the Red Sox do not have a closer.
They refuse to name one for some reason, and it is really frustrating. Boston has had 15 save opportunities, and they have only had six successful saves. That means there were nine games that the Red Sox could have possibly won if they had a closer.
I do not understand why the Red Sox will not name a closer. The last time this happened was back in 2019 and it did not work then. With all the options on the Red Sox pitching staff, the best option would be to take Garrett Whitlock out of the rotation and back in the bullpen as the closer.
Yes he just got a big extension, but Boston needs him in the bullpen.
Tanner Houck is better starting the game than taking over for another guy. Matt Barnes seems lost on the mound. I know in my last article I was singing the praise of Hansel Robles, but since then he has decided to let his ERA get up to 2.79.
They could go with Ryan Braiser. Before he gave up the two-run walk-off homer to the Braves Wednesday night, he seemed to be dealing pretty well. Matt Strahm has looked good as of late, in his last three games, he has pitched 2 1/3 innings, and has given up zero hits and zero runs with four strikeouts.
If the Red Sox did not have Whitlock, my option for closer would be John Schreiber. He has been one of the most consistent arms in the Red Sox bullpen. In seven innings, he has only given up three hits and zero runs while also striking out six.
I would love to see Boston get back to their old ways of having 7, 8, and 9 guys. I believe those three guys would be Whitlock, Strahm, and Schreiber. If you do not want to lock in Whitlock as the closer, fine, I understand. But he needs to be in the bullpen. Put him as the seventh-inning guy that can come in for the sixth and give you two solid innings if you need it.
Strahm comes in as your eighth inning. He has the stuff and confidence as of late to do this and in my eyes is the perfect pitcher to be in the eighth. The closer of this team, for now, should be Schreiber. He has the stuff and the numbers to have earned that spot. Plus he also has the beard and the number of a former Red Sox closer, Craig Kimbrel.
I really hope the Red Sox stop this messing around and give guys jobs. Let them know which inning is theirs so they can know when they will be needed.