Boston Red Sox relief pitcher stat predictions for the 2022 season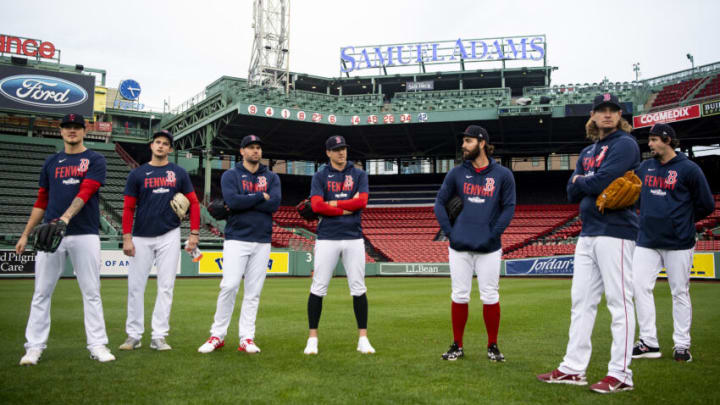 BOSTON, MA - OCTOBER 05: Members of the Boston Red Sox bullpen look on before the 2021 American League Wild Card game between the Boston Red Sox and the New York Yankees at Fenway Park on October 5, 2021 in Boston, Massachusetts. (Photo by Billie Weiss/Boston Red Sox/Getty Images) /
NEW YORK, NY – JUNE 6: Josh Taylor #38 of the Boston Red Sox pitches against the New York Yankees during the eighth inning at Yankee Stadium on June 6, 2021 in the Bronx borough of New York City. (Photo by Adam Hunger/Getty Images) /
Red Sox relief pitcher: Josh Taylor
The three-batter minimum rule has affected a lot of relievers since its implementation in 2020, but none more so than lefties with drastic platoon splits. Referred to as "LOOGYs," or left-handed one-out guys, these pitchers built a career on facing a team's best left-handed hitters and then immediately exiting before a right-handed hitter strode to the plate. Yet with the new rule forcing pitchers to face at least three batters per appearance, these arms are becoming extinct.
Josh Taylor is one of the few LOOGYs still in circulation. His hard fastball/slider combination eats up lefties, who have a career .174/.249/.230 against him. His slider in particular is one of the best in baseball. The pitch induces whiffs at a 47% rate and held batters to a .175 batting average and a .223 slugging percentage.
The thing about sliders, however, is that it is much easier to hit the pitch when it is moving towards you than moving away from you. Taylor's slider does not fool righties at nearly the same rate, as evident by their .282/.374/.427 career slash line against him. Without a cutter or changeup to keep them honest, Taylor has no way to get right-handers out if his breaking ball is not doing the job.
Rather than develop to be more effective on righties, Taylor's platoon splits have only grown more drastic under the new rule. Right-handed hitters had an OPS nearly 500 points higher against him than lefties last season, compared to only 130 points in 2019. In a division stacked with right-handed hitters, it's unacceptable for Taylor to be so ineffective against such batters. As long the three-batter minimum is in place, Taylor cannot be trusted in the game's biggest moments.
Stat Predictions: 3.57 ERA, 3.8 BB/9, 10.9 K/9